The leadership of Professor David Green in forging and cementing a mutually rewarding relationship between Charles Sturt University (CSU) and its local communities has been praised following the announcement the Head of Campus, Wagga Wagga will retire in 2009.
CSU Chancellor Mr Lawrie Willett, AO, announced Professor Green has decided to retire after 24 years with the University in a variety of roles including artistic, academic, governance and public advocate for CSU.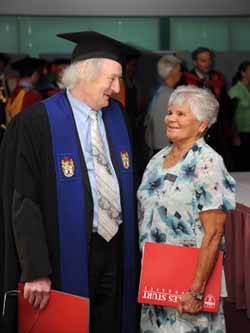 "Professor Green has played a key role in the development of CSU at Wagga Wagga and in building relationships with both the City of Wagga Wagga and surrounding communities," said CSU Vice-Chancellor Professor Ian Goulter.
"For example, he has been instrumental in fundraising for scholarships and student accommodation, chairing the regional consultative committee and in the establishment of a formal Memorandum of Understanding (MoU) with the city; the first of our campuses to sign such a MoU.
"From the very active MoU have flowed a cultural co-operation agreement and a commercial activity agreement. It will be a model of community engagement for many other universities."
Praise for Professor Green has also come from the Federal Member for Riverina Mrs Kay Hull, MP, who said, "David has been such a public face of CSU and has worked tirelessly to bring CSU and the Wagga Wagga community together."
Professor Green joined CSU in 1985 and was appointed the inaugural Professor of Visual Arts in 1990. In 2000, he was appointed Head of Campus, Wagga Wagga. Professor Green has also been Head of the School of Visual and Performing Arts, Presiding Officer of the University's Academic Senate and a Member of the Charles Sturt University Board of Governors.
As a practicing artist, Professor Green has exhibited in Wagga Wagga as well as in other regional NSW centres, Sydney, Melbourne and in the ACT, and has works in a number of public and private collections.
He has served on the Wagga Wagga City Art Gallery Board of Trustees, been the Patron of the Wagga Wagga Eisteddfod and Patron of Wagga Wagga and District Family History Society Inc.
Professor Green will leave CSU at the end of May. He and his family will move from Wagga Wagga to live on the Sunshine Coast in Queensland.