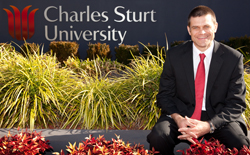 The new Vice-Chancellor and President of Charles Sturt University (CSU), Professor Andrew Vann, is committed to advancing the University's essential partnerships with its communities and stakeholders.
Professor Vann said a large part of CSU's success lies in working with a range of people and groups to ensure its activities and its graduates meet their needs.
"Charles Sturt University works closely with schools and TAFE to build aspiration and opportunity for rural Australians regardless of where they live. We maintain strong links with industry and the professions to ensure the University's graduates have the skills and capabilities needed by a modern workforce. Our research is focussed on community needs and we meet regularly with all levels of government to encourage investment where it will support development of regions," he said.
"The University has made an enormous contribution to rural and regional Australia and beyond. We are a large university and I've been amazed at the number of people who have told me they are Charles Sturt University alumni. Our academic disciplines cover many of the critical issues of our time, as well as being really interesting and diverse. Put that together with its strengths in distance and online education and I can't think of a better place to be."
Professor Vann moved to CSU this month from James Cook University in Townsville, where he was Senior Deputy Vice-Chancellor.
He said he and his family were very pleased to be a part of the inland NSW community.
"I feel it is a privilege and an honour to be taking on this important role. I am working in the university sector because education and research seem to me to be unquestioned areas of public good, with perhaps the only real possibility of making the world a better place.
"Also, as an intellectually curious person, I'm just drawn to universities, and the people who work in them. I have stayed in regional universities because I really enjoy the strong connection to community, the impact you have on people's lives and the 'realness' of them," Professor Vann said.
He said continued lobbying to government to expand the University's health programs and establish a new rural medical school would be a priority.
"In the new demand-driven environment in the higher education sector, Charles Sturt University will continue towork hard to ensure our resources are targeted so that our facilities, curriculum and staff are all focussed on meeting the needs of students and our communities".
Professor Vann paid tribute to the University's former Vice-Chancellor, Professor Ian Goulter.
"Under Ian's leadership Charles Sturt University grew and strengthened enormously, and I feel fortunate to be joining such a strong and successful institution," he said.