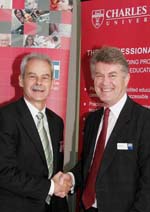 Charles Sturt University (CSU) and the Canberra Institute of Technology (CIT) will sign an agreement today, Friday 6 March, to create higher education pathways between the two institutions for students from the Australian Capital Territory (ACT), regional NSW, and overseas.
The agreement will allow CIT students to gain qualifications beyond their studies at CIT in order to access CSU's range of degrees, including distance education courses, and CSU students will gain access to unique CIT offerings.
The arrangement will help the ACT to increase the proportion of its residents with higher education qualifications in order to provide more professionals locally.
Both institutions will work to capitalise on mutual strengths and interests to improve the quality of provision in areas such as student support and administration, and online learning. There will be planned credit arrangements across a broad range of disciplines including business studies, graphic design/multimedia, information technology, library and information services, spatial information services, complementary medicine and allied health.
The agreement builds on and expands existing collaboration between CSU and CIT (for example, through joint delivery of the Graduate Certificate in Management), and will also ensure longer term opportunities for staff from both institutions to access professional development and undertake professional collaborations through exchange arrangements.