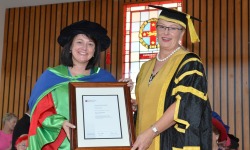 An alumna of Charles Sturt University (CSU) in Bathurst and recipient of a CSU honorary doctorate has been honoured in the Queen's Birthday honours list announced today.
Dr Emma Leslie has been awarded a Member of the Order of Australia (AM) 'For significant service to international relations through the facilitation of a network of conflict transformation and peace practitioners in the Asia-Pacific region'.
Dr Leslie and her husband live in Siem Reap City, Cambodia, where she is Executive Director of the Centre for Peace and Conflict Studies (CPCS).
In December 2014 the CSU Council conferred the award of Doctor of Education (honoris causa) on Dr Leslie in recognition of her outstanding contribution as a respected and sought-after international leader in conflict resolution in the Asia-Pacific.
CSU Vice-Chancellor Professor Andrew Vann said "Congratulations are certainly in order for Dr Leslie. Her commitment to international conflict resolution in Cambodia and the Asia-Pacific region deserves to be commended.
"Dr Leslie's contribution to the 'public good' through her work as a teacher, internationally recognised peace-builder and global citizen is extraordinary and we are very pleased to celebrate her success in receiving a Queens Birthday honour."
Dr Leslie was raised in Bathurst and attended primary and high school in Kelso. She is the daughter of Michael and Annette Leslie, both of whom worked for many years at CSU in Bathurst. Emma is also the granddaughter of the former Bishop of Bathurst, Dr Ernest Kenneth Leslie.
Reflecting on her Member of the Order of Australia, Dr Leslie said, "This honour is affirming, not just for me, but all the peace builders I have had the privilege to work alongside in in the Asia pacific region; most especially my husband Ngarm whose home country Cambodia has shown such resilience in recovering from over 30 years of bombing, genocide and civil war."
She says of the CPCS's work, "We apply a conflict transformation perspective to all activities, rooted in the belief that conflict is natural and presents opportunities for change and growth.
"Conflicts are not something to be 'resolved' but rather to be transformed. Through this approach, transformation at the personal, institutional and societal levels, particularly the transformation of how the conflict is understood, translates into new approaches."
More information about the CPCS and Dr Leslie can be found here.