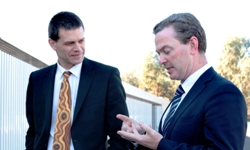 Charles Sturt University (CSU) Vice-Chancellor Professor Andrew Vann welcomed Federal Education Minister the Hon Christopher Pyne MP to CSU in Dubbo yesterday and discussed concerns about the Federal Government's proposed higher education reforms.
Mr Pyne joined Parkes MP Mark Coulton, Professor Vann and head of CSU's School of Dentistry and Health Sciences Professor David Wilson on a tour of the University's community dental clinic.
Professor Vann said the Government's higher education reforms, as proposed in the May budget, had the potential to deter rural and regional students from higher education.
"We're very pleased the Minister has visited and is willing to listen to the concerns of regional universities," Professor Vann said.
"The Government's proposals are ambitious and far reaching and will have both benefits and risks," Professor Vann said.
"We are pleased that sub-degree places will be included in the system and also that a demand-driven system has been retained. However, we also have concerns that the changes as proposed, especially linking student loans to real rates of interest, have the potential to price students out.
"While we understand the Government's view that students need to bear a greater share of the cost of their education, we also know that cost is a much bigger factor for rural students making a decision about whether to go to university than it is for city students.
"We don't want to see a reduction in the numbers of rural students coming to university and a return to the days of rural workforce shortages in crucial areas.
"To ensure rural communities have access to trained professionals in critical areas, such as dentistry and oral health services, we need to give rural students access to rurally based educational opportunities."
Mr Pyne said he was confident regional universities would be able to attract students in a deregulated market.
"Institutions like Charles Sturt University will be able to compete on price, cost of living, and lifestyle," he said.
"I think they will be able to attract the best and the brightest. I see a great future for rural and regional Australia."
Mr Pyne also congratulated CSU on the impact its dentistry and oral health programs were having on its communities.
"Charles Sturt University graduated 33 dentists last year, most of whom are working in rural and regional Australia, which was the whole point of the project," Mr Pyne said.
Photo: Charles Sturt University Vice-Chancellor Professor Andrew Vann has raised concerns about the impact of proposed higher education reforms with Federal Education Minister the Hon Christopher Pyne MP.