Charles Sturt University (CSU) will farewell one of its most senior staff members at the end of the month. Professor Lyn Gorman retires as Deputy Vice-Chancellor and Vice-President (Administration), a position she has held since 2007.
As a specialist in contemporary history with a doctorate from the University of Sussex, Professor Gorman joined the School of Humanities and Social Sciences at CSU in Wagga Wagga as a Lecturer in History and Politics in 1991.
She was subsequently appointed Senior Lecturer and then Head of the School in 1999, and in 2002 took on the position of Dean of the Faculty of Arts.
Vice-Chancellor and President at CSU, Professor Ian Goulter has paid tribute to Professor Gorman and expressed his appreciation for her long and exemplary service to the University.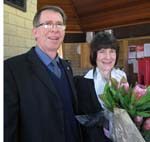 With her departure date set for Friday 29 July, Professor Gorman said, "It has been a privilege to have been part of Charles Sturt University as it evolved as a University and shaped its own identity in national and international higher education.
"I really value the opportunities I have enjoyed here – as an academic to engage in areas of teaching and research for which I have a passion, as an academic leader and manager in an increasingly demanding environment, and most recently as Deputy Vice-Chancellor and a member of the Senior Executive during years of considerable change in Australian higher education.
"My thanks to the many, many people with whom I have worked inside and beyond Charles Sturt University, in the Divisions and the Faculties, on University Council, on boards of management and committees, with partner organisations in Australia and internationally, in other universities.
"For me these have been fulfilling and fascinating years and I shall continue to follow the development of Charles Sturt University with interest."


Ms Shirley Oakley will be Acting Deputy Vice-Chancellor (Administration) at CSU following Professor Gorman's retirement.