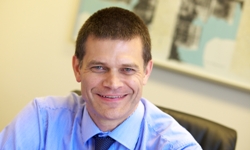 A new Australian Government Productivity Commission report highlights again that rural doctor shortages are damaging the health of rural and regional Australians.
The Commission's Report on Government Services 2016 found people in rural and remote areas are still struggling to find a GP when they need one, increasing pressure on rural hospital emergency departments.
Charles Sturt University Vice-Chancellor, Professor Andrew Vann said, "The evidence consistently shows that rural doctor shortages are associated with a higher incidence of disease, higher rates of hospitalisation and higher rates of unnecessary deaths in rural areas.
"The response of past governments has not been to invest in regional university medical schools that have the track record to solve the problem, but to pour hundreds of millions of dollars into city medical schools," he said.
"Unsurprisingly we now have an over-supply of Australian medical graduates and doctors in our cities, with rural communities reliant on recruiting more and more doctors from overseas," Professor Vann said.
"We can't have prosperous cities, or a prosperous country, if we don't take care of the people who generate 65 per cent of Australia's export wealth – those who live in regional and rural areas.
"This is why Charles Sturt University is committed to the Murray Darling Medical School initiative," he said. "Because it will give rural kids a fair chance to study medicine, bring jobs into our regions and help to solve rural doctor shortages."
The Murray Darling Medical School initiative is a partnership between CSU and La Trobe University to address rural doctor shortages in New South Wales and Victoria through the establishment of a new medical school based at Orange, Wagga Wagga and Bendigo campuses.
Murray Darling Medical School Executive Director, Mr Mark Burdack said, "Rural and regional Australians continue to have problems getting access to a doctor due to shortages and for the last 40 years rural communities have been losing local hospitals, GP and maternity services.
"The Murray Darling Medical School is not just about fixing rural doctor shortages, it is about addressing the inaccessibility of health and hospital services in rural and regional areas," Mr Burdack said.