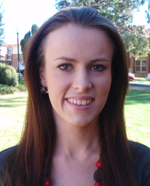 A Charles Sturt University (CSU) teacher education student is the 2012 recipient of a prestigious internship from a leading professional organisation.
"This is a wonderful professional development opportunity, and is very reassuring that my interests and ambitions are seen as relevant for the future of school education," Ms Page said.
Internship applicants submit a project proposal for assessment. The internship provides funding for the successful applicant to attend relevant education conferences during the year, and to gain overseas experience and develop their project ideas with a non-government organisation over 12 months. Ms Page's proposal focused on how to develop environmentally sustainable classrooms and schools in order to reduce their carbon footprint and to promote a lifelong commitment to sustainability.
"My project takes a whole-of-school approach, with the development of community kitchen gardens and the children educating their families about how we can all reduce our consumption, and learn to reuse and recycle material," she said.
Ms Page, who comes from Mudgee in NSW, is also a member of the Bathurst Climate Change Action Network (BCCAN), and is a previous recipient of a
CSU Foundation Scholarship
which assisted her earlier five-week practical placement with an additional week of volunteering at a school in Broken Hill. She said that CSU has a great reputation for its courses.
"I always knew I was going to study at Charles Sturt University, and I haven't been disappointed," she said. "I've benefitted from excellent lecturers, and in particular, Ms Jan Page (not related) at the School of Teacher Education has inspired and encouraged me, always pushing me to extend myself, particularly regarding education for sustainability. It is something that I feel very strongly about, and so this internship opportunity couldn't have come at a better time."