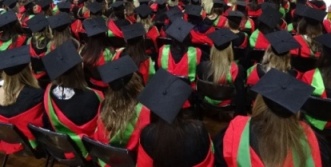 A combined University Roadshow will begin the first leg of a five-week tour of high schools on the NSW Mid North Coast next week.
Charles Sturt University (CSU) prospective student adviser Ms Bernadette Gammon said advisers from three regional universities - Charles Sturt University (CSU), Southern Cross University and the University of New England - will visit about 5 000 Year 12 students to provide information on higher education.
"Starting on Monday 9 February, we will provide information directly to about 800 local students from 22 high schools between Kempsey to Bulahdelah," Ms Gammon said.
"By combining the resources of the three universities, we can provide excellent, accurate advice to students in one visit. The Roadshow format also means we can present a broad range of study options to students while minimising the time students are away from classes and study.
"The Roadshow enables local students to learn about what our regional universities can offer. Students gain insights into what university life is like, and the benefits of life and study at regional universities."
This is the thirteenth year of the University Roadshow. The schedule for the Roadshow on the lower Mid North Coast is:
Monday 9 February
10.45am - Melville High School, Kempsey
1.40pm - MacKillop Senior College, Port Macquarie
Tuesday 10 February
9am - Wauchope High School, Wauchope
11.30am - Westport campus (Hasting Secondary College), Port Macquarie
1.50 pm - St Joseph's Regional College, Port Macquarie
Wednesday 11 February
9am - Camden Haven High School, Kew
1.30pm - Gloucester High School, Gloucester
Thursday 12 February
9.30am - Wingham High School, Wingham
11.50am - St Clare's High School, Taree
1.30 pm - Taree High School, Taree
Friday 13 February
9am - Bulahdelah High School, Bulahdelah
11.30am - Great Lakes Senior College, Tuncurry