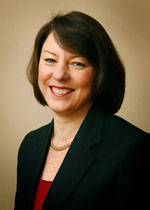 Speech and language researchers at Charles Sturt University (CSU) are seeking participants for the historic AusTalk national study of Australian speech and accents.
Professor Sharynne McLeod, Professor of Speech and Language Acquisition at the CSU
"Bathurst is one of the few rural sites for this Australian study. Most of the recordings are being undertaken within the capital cities, so it is important that rural voices are included," Professor McLeod said.
"The recordings will provide a benchmark of how spoken Australian English has developed and how it might evolve in the future.
"Charles Sturt University is one of 14 Australian universities undertaking this practical and historic research which will provide a permanent record of Australian English that can be described as a 'national treasure'.
"It will support Australian speech science research and development, and help develop Australian speech technology applications, such as better telephone-based speech recognition systems,
computer avatars, hearing aids and cochlear implant improvements, and computer aids for speech and language impaired children."
Professor McLeod said participants need to be over 18 and have had all of their schooling in Australia. They will be asked to complete a short questionnaire and will be recorded during three one-hour sessions reading some words and sentences, having a conversation, and playing a game with another participant.
Participants will receive reimbursements of $25 for each of the first two recording sessions, and $40 for the third recording session.
For more information and to register for the research, click
here
.