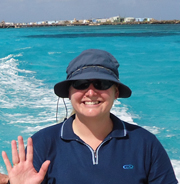 The beautiful remote islands off the coast of Western Australia have been the sites of many emergency incidents which need to be examined and understood because similar events are likely to happen again, says a Charles Sturt University (CSU) research student.
Ms Plottke's new research covered more than 400 years and identified over 400 historic emergency incidents across five spectacular island groups off the Western Australian coast, with some surprising results.
"I wanted to find out what sort of disasters have occurred at Australian islands in the Indian Ocean,
to help with future planning," Ms Plottke said.
"This is the first in-depth investigation into incidents that have affected five Indian Ocean remote tourism sites - the Houtman Abrolhos Islands, Shoalwater Islands, Rottnest Island, the Cocos (Keeling) Islands, and Christmas Island.
"The primary purpose of the study was to investigate the type of emergencies which have occurred
at remote island tourist sites, in order to improve emergency management arrangements at these
and other such sites. A secondary purpose was to provide this information to other remote island tourist sites, to assist the managers of these locations to improve their emergency management planning.
"I chose Christmas Island as one research focus because I'd seen recent incidents there in the news. What I didn't expect was the number of incidents at other islands – places far more dangerous than Christmas Island. And a lot of the details just aren't well known.
"For example, I unearthed the fascinating story of the Gem, which on the night of 18 May 1876 sailed past Rottnest toward Fremantle but disappeared. The vessel was eventually found one kilometre north east of Phillip Rock with only her masts above water. None of the six crew and four passengers survived. However, the ship's cat survived, reaching the mainland and returning home some days after her ship sank.
"I think one of the funniest findings from my research was that, for each of the beautiful places I visited, an early explorer had said, 'Stay away from there, it's not worth the trouble.' Even after all my research, I won't be taking their advice – I want to go back to all of them."
Some of Ms Plottke's research recommendations include:
The next review of the emergency management plans for the subject sites in this study should take into account the information identified in this study;
Emergency management planning for these sites should pay particular attention to marine vessel incidents, civil unrest, defence, aircraft incidents, storms, cyclones and planning for a complete evacuation of the site, should it ever be required;
More detailed research should take place into incidents in the last 50 years, to enable a complete record of incidents to be obtained for each site;
Further detailed research into individual incidents should be undertaken, similar to that of Gibbs (2002, 2006), to enable lessons to be learned from past incidents as well as more recent ones; and
Further investigation will be required into the untold history of Dutch exploration of the Indian Ocean Territories.