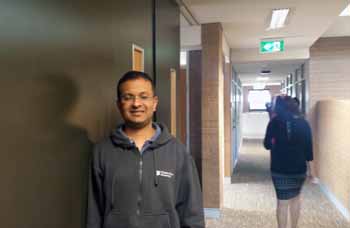 A condition known as 'maths anxiety' is one that Dr Ajay Ramful hopes fewer children will experience as a result of his research being undertaken at Charles Sturt University (CSU).
As part of the community of mathematics educators, his goal is to make mathematics accessible to students by understanding how they make sense of mathematical information.
A former high school teacher and then lecturer at the Mauritius Institute of Education, Dr Ramful holds a PhD in mathematics education from the University of Georgia in the USA.
His research interests lie in how children at both primary and secondary schools solve mathematical problems.
It's a field that the Post-Doctoral Research Fellow describes as 'fascinating' and 'intriguing'.
Dr Ramful said, "Like working through a story, there are different ways for a child to get to the end. Learning maths is not all static, dry or fixed."
Dr Ramful is attempting to refocus his research on how maths, a 'service subject', may be used in the learning of chemistry.
While in the early stages, his research will involve going line by line through transcribed interviews of children solving maths problems, to see how they process the maths and get over hurdles.
Fluent in English, Mauritian Creole, Hindi and French, Dr Ramful admits it was a difficult decision to uproot his young family – the youngest being just over two months old – and move to regional Australia.
"When you make the decision to move, you have to accept the challenges," Dr Ramful explained.
Dr Ramful eagerly expresses his delight at the opportunity to work with what he says are 'similar minded' people at RIPPLE. This clearly includes internationally renowned maths education specialist and RIPPLE Director Professor Tom Lowrie, whom he describes as a 'great person'.
Dr Ramful joins Dr Sitti Maesuri Patahuddin who also started at RIPPLE this year as a Research Fellow. Read more in CSU News
here
.