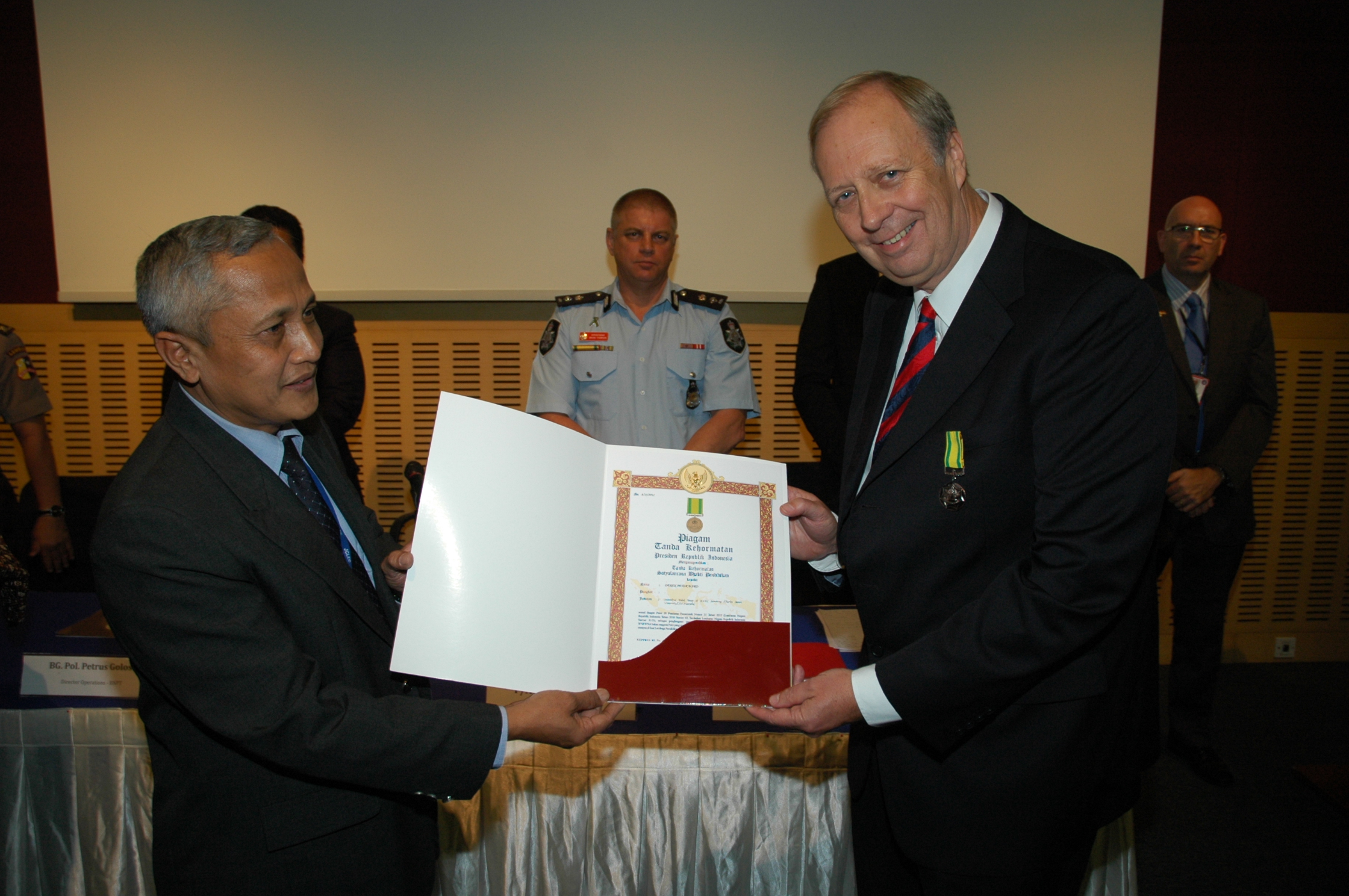 A Charles Sturt University (CSU) academic has been recognised by the Indonesian Government with the Medal of Honour in Education for his work training police at the Jakarta Centre for Law Enforcement Cooperation (JCLEC).
Lecturer in counter terrorism with CSU's
Australian Graduate School of Policing and Security
, Mr Derek Ward, received the award from Inspector General Abdul Choliq, on behalf of Indonesian President Susilo Bambang Yudhoyono, at a ceremony in Semarang recently.
Mr Ward, who was one of seven recipients, said he was honoured to receive the award, which reflected CSU's significant commitment to providing police capacity-building programs in Indonesia and around the world.
"Charles Sturt University, as a consortium member of the European Union-sponsored Transnational Crime and Criminal Justice Project, has delivered training programs at JCLEC in combating transnational and organised crime, and designed and delivered trainer development programs," he said.
"In addition, their continued input in terrorism and security
studies to the Regional Executive Leadership Program, also hosted at JCLEC, extends the reach of Charles Sturt University's police capacity-building beyond Indonesia, benefiting senior police officers who attend this course from countries throughout South-East Asia."
Mr Ward said the award also demonstrated CSU's commitment to the JCLEC.
"The Centre is a first-class police training centre in Central Java," he said.
"It was established by the Australian and Indonesian Governments, demonstrating their joint recognition of the importance for police development and excellence in the region.
"Training is a team effort and I firmly believe that this award reflects the hard work and professionalism of all Charles Sturt University staff who have designed and delivered training programs in Indonesia."