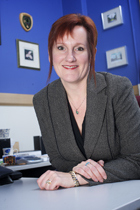 A Charles Sturt University academic (CSU) from Wagga Wagga will play a key role in a federally-funded project exploring how best to measure the impact of publically-funded research.
Professor of Information Studies
Lisa Given
is investigating how qualitative research can assess the practical impact of university research in all disciplines, and will hold a workshop in Sydney next month to bring together experts in the field.
Professor Given said her study is timed to inform the federal Department of Industry, Innovation, Climate Change, Science Research and Tertiary Education (DIICCSRTE)
consultation process
on how best to assess the impact of research.
That process will inform the
National Research Investment Plan
, which will be used to set out how the federal government will spend its annual science, research and innovation budget of almost $9 billion.
"As university researchers, we want our work to be used and we want people to benefit from it," Professor Given said.
"As taxpayers, we want to ensure public funds are invested in a way that gets the best return in community benefit.
"The question is how should we measure that benefit?"
Professor Given's project will assess the use of qualitative research methods, such as case studies, in measuring the impact of research across a variety of disciplines.
"When we think about research we tend to picture scientists working on a new vaccine, or a new tool for emergency medicine," she said.
"But you can't always measure the impact of research in the amount of money spent or the number of lives saved.
"It can be one child in a classroom whose life was changed because her teacher applied a new learning technique based on university research.
"The impact of that research goes beyond the short-term benefits to the child and reaches into the ways her life is improved over all the years ahead, and the contributions she herself goes on to make to her family and community."
The Sydney workshop will bring together researchers, administrators and marketing and communications staff to discuss the benefits and limitations of preparing case studies to demonstrate the impact of research.
It will provide strategies to inform university practice on documenting and sharing research impact, whether as part of assessment exercises, or for marketing and communication, generally.