The program has been developed through collaboration between academics and professional educators from Australia and Canada.
It provides coursework or research pathways tailored for education professionals giving a global perspective to theoretical study and critical analysis of educational issues.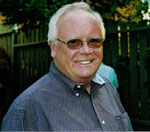 Master of International Education (School Leadership) program director, Dr Brent W Pickard said this broader examination of education practices is essential in an increasingly cosmopolitan world.
"It is an internationally-recognised qualification, delivered totally by distance learning which brings global perspectives to the study of educational issues that are important to school leaders," he said. "This will benefit the learning process for students by informing local policy and practice within schools."
Principal of St. Luke Catholic High School in Smith Falls, Ontario, Mr Derek Haime said gaining his Master of International Education (School Leadership) has made him a better leader.
"It made me realise that the issues, challenges and success we experience are not unique and that we need to work together more closely to ensure our students get what they deserve.
"I had been told that online learning could be a lonely process but I never felt that way because a fellow student or the professor was only a click away," he said.
The program is delivered through distance education, employing CSU's state-of-the-art online learning system, CSU Interact, where students access learning resources and communicate with faculty and other students from wherever they live.
There's been strong demand for the degree in Ontario and Dr Pickard believes it makes sense to expand the program to educators in Australia, in other Canadian provinces and those practicing in international schools anywhere in the world.
"This is an exciting and challenging development, one that is consistent with Charles Sturt University's strategic vision and one that will ultimately contribute to improved learning outcomes for thousands of children around the world," he said.