Advisers from Charles Sturt University (CSU) will visit Parkes, Cowra, Yass, Bowral, and Ulladulla in mid March to help distance education students get the most from their CSU experience.
Manager of the CSU Outreach team, Mr James Brann, said, "The University's Outreach visits offer both group and one-to-one sessions with students to provide advice and guidance about online learning, effective reading skills, note taking, assignment writing, time management, and orientation to the University. The Outreach sessions are free for current Charles Sturt University distance education students and are designed to assist them to be successful in their studies."
Outreach student liaison officer Ms Emma Gersbach (pictured top) will be at Parkes Library in Parkes on Monday 9 March, and at Cowra Council in Cowra on Tuesday 10 March.
Outreach student liaison officer Mrs Diane Middleton (pictured) will be at Swaggers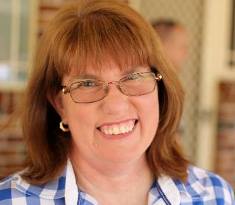 Motor Inn in Yass on Tuesday 10 March; at Bowral Library in Bowral on Wednesday 11 March, and at the Civic Centre in Ulladulla on Thursday 12 March.
To book a place at one of these sessions, please register here by scrolling down to respective towns or click 'show more' at the end for more locations at future dates.