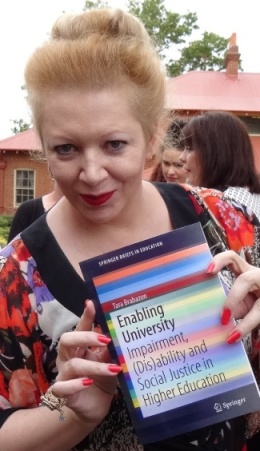 Inclusion and social justice are at the heart of a new book by Charles Sturt University's (CSU) Professor Tara Brabazon which was launched earlier this week.
Professor Brabazon's 16th book, Enabling University: Impairment, (dis)ability and social justice in higher education, examines the concept and application of 'universal design' in overcoming the physical and digital impediments to increase access in a formal university setting.
"When I took the role of Head of the University's School of Teacher Education, I wanted to ensure and foster a School, and indeed a University, that welcomed and included all students," Professor Brabazon said at the launch of her book on Tuesday 17 March.
"Approximately 18.5 per cent of the Australian population have some form of impairment and they are less and less represented in higher education as they progress from primary to secondary and tertiary education. I want to ensure all Australians have equal access to education at this University, including postgraduate education," she said.
The book was formally launched by CSU Vice-Chancellor Professor Andrew Vann and the Mayor of Bathurst, Councillor Gary Rush. Special guests in the audience included Professor Brabazon's parents, Kevin and Doris Brabazon, who had travelled from their home in Western Australia for the launch. Guests also included academics from Curtin University in Western Australia, Dr Mike Kent and Dr Leanne McRae, who Professor Brabazon had supervised for their PhDs.
Professor Brabazon noted to the audience that most people will be touched by some form of impairment in their lives.
"When matched with the necessity to retrain and gain new skills for a post-recession future, there must be a renewed commitment which not only widens the participation in higher education but also the enabling of universities for men and women with impairments," Professor Brabazon said.
"The key concept of Enabling University is 'universal design', a term and theory used to move beyond the medical and social model of disability that disconnect and separate the issues of disability and impairment from core societal concerns."
The book combines the scholarly fields of media platform management, information literacy, internet studies, mobility studies, and disability studies. It offers a guide and method to consider how students and staff with differing needs move through university processes, spaces and interfaces, and it captures the challenges and potentials of both the online and offline university.