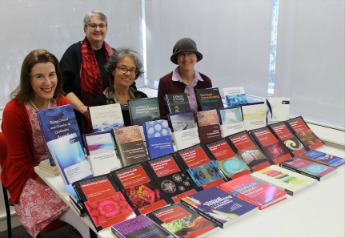 A newly-published scholarly book sets a Charles Sturt University (CSU) record for the academic team behind it.
Professional Practice Discourse Marginalia by Professor Joy Higgs, AM, and Professor Franziska Trede is the 31st book in nine years to be published by staff at the CSU Education for Practice Institute.
Professor Higgs is Strategic Research Professor in Professional Practice at CSU, RIPPLE and Co-Director of the Education for Practice Institute, and Professor Trede is Co-Director at the Institute.
"Taken as a whole, this collection of 31 publications is a sustained program of work that is impacting on student learning and the lives and wellbeing of people in the community," Professor Higgs said.
"These include professional practitioners in the wider community who see examples of good practice in areas like developing good practices and services for their clients; classroom teachers who are learning about how to communicate well with their pupils; health practitioners who are demonstrating how to bring a human face not just a clinical face to professional relationships; students who are developing their learning and research capabilities; and university educators who are sharing excellent practices of teaching and learning."
Professor Higgs said Professional Practice Discourse Marginalia features contributions from a number of academics, including CSU Vice-Chancellor Professor Andrew Vann.
"This is a book for university educators, workplace learning educators, researchers and practitioners," she said. "It draws together two key elements of the lives of these people: professional practice – what people do, and practice discourse – what they write and say about what they do.
"And, it focuses these discussions around two spaces – the core and the margins, of practice and discourse."
Professor Higgs explained that writing in the margins of texts has a very long history.
"People have always left part of themselves – their ideas, personality and reflections – in the margins of texts," she said.
"In this book we have taken up the idea of such written 'marginalia' and we have expanded it into writing into the texts of practice discourse as well as speaking and acting in the margins of professional practice. Such deliberate changes in marginal practice spaces, and in written practice discourse, provide ways of shaping and critically appraising current and future professional practice.
"Professional Practice Discourse Marginalia provides a dialogue between two fascinating phenomena: professional practice and discourse. These face challenges in the 21st century as they negotiate their contested spaces in a rapidly changing global society.
"Professional practice and discourse draw on strong established traditions and expectations, but we cannot be complacent in these illusory stabilities. Rather, we must be awake to the imperatives of their re-invention and reclaimed relevance to today's society and professional class in the workforce."
Professional Practice Discourse Marginalia is published by Sense Publisher and is available https://www.sensepublishers.com/catalogs/bookseries/practice-education-work-and-society/professional-practice-discourse-marginalia/