Exploring the experiences of how Aboriginal children in urban areas move into school are the focus of a major research project that includes two senior education researchers at Charles Sturt University (CSU).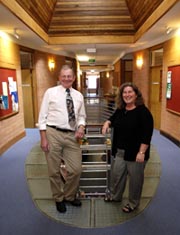 Professors Sue Dockett and Bob Perry from the
Murray School of Education
at CSU in Albury-Wodonga will take part in research funded by the Australian Research Council for nearly $360 000 over three years.
Starting in 2012, the project will follow the progress of Aboriginal children to the end of Year 2, in their communities in south-western Sydney, through the eyes of family, community and educators and the children themselves.
Titled 'An ecological study of school transition and the early years of school for Aboriginal children in an urban community', the project builds on the earlier 'Gudaga' study that tracked the health, development and service use of 125 Aboriginal children from birth to five years of age in the same location as the new project.
"These detailed data provide a unique opportunity to consider the complex individual and community factors that contribute to positive outcomes for Aboriginal children in their early school years," said Professor Dockett.
"The project aims to follow this group of children into the early years of their schooling, exploring their transition into school and mapping their achievements in light of previously measured indicators of their earlier growth and development.
"We seek to document and analyse what constitutes a successful transition for an Aboriginal child living in an urban area. This will help educators and policy makers create tailored programs for these children and their families."
The research is supported by state and local Aboriginal community health and education organisations, and will influence education policies and practices for Aboriginal children, their families and communities.
The research team is led by Associate Professor Lynn Kemp and includes other researchers from the University of NSW. The project is due to be completed by the end of 2014.