The acquisition of a language often leads to a greater understanding of a culture.
Several staff and students from Charles Sturt University (CSU) have taken this concept seriously in 2009 as part of their quest to appreciate an Australian Aboriginal language and culture.
In addition to their normal academic workload, they have spent this year learning Wiradjuri, the language of the traditional custodians of the land where CSU's main campuses are located in NSW.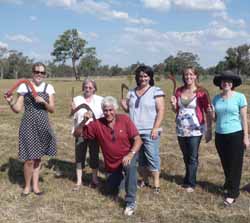 The lecturers are from the
School of Teacher Education
at CSU at Dubbo, Ms Maria Bennet and Dr Kay Owens along with Professor Sharynne McLeod from the
School of Teacher Education
at CSU Bathurst.
They have been joined by six teacher education students to undertake their Certificate I in Wiradjuri under the tutorship of teacher and Wiradjuri woman Ms Di McNaboe from TAFE NSW Western Institute.
"The presence of Charles Sturt University on Wiradjuri land was one of the main reasons I decided to learn the language," said Ms Bennet from Dubbo. "I felt a sense of responsibility to further embrace the Wiradjuri history and culture and to learn from the Elders and community.
"We have a strong relationship through the University with the local Indigenous community at Dubbo. A number of programs take pre-service teachers into the community. These programs and the University's proactive role in working with the Indigenous community has fostered and developed this relationship.
"Wiradjuri is a challenging language to learn as you can't just read the word like in English," said Ms Bennet. "The grammatical structure is quite different to English.
"To receive the TAFE Certificate I qualification at the end of the year after an oral examination, which will include reciting a Wiradjuri Elder's advice for living and singing songs in Wiradjuri, will represent a significant achievement for my colleagues and the students involved in the subject.
"Learning the language has helped us understand the culture. This is invaluable to anyone engaged in and working with the community. This understanding will assist our pre-service teachers who are likely to work in schools with high Indigenous populations.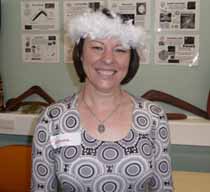 "During one of our weekend classes we had the privilege of learning with the local Indigenous teachers who have also been learning the language and were invited to the Talbragar Reserve at Dubbo – the original Aboriginal Mission area. The Elders shared stories with us and showed us how to throw a returning boomerang."
Dr Owens said, "The structure of the language and cultural relationships encompass mathematical understandings." Dr Owens' research is on Indigenous mathematics especially in Papua New Guinea.
Following the weekend, Elder Mr Wayne Peckham donated boomerangs to the CSU staff and students learning Wiradjuri.