An online tool developed by researchers at Charles Sturt University (CSU) is helping teachers assess, monitor and report on their students' writing skills development.
Dr Noella Mackenzie from CSU's Research Institute for Professional Practice, Learning and Education (RIPPLE) and her research team collected over 3 000 writing samples from 1 799 Year One students in New South Wales and Victoria. Close analysis of the samples revealed key areas of learning and the range of ability among students in regards to spelling, punctuation, handwriting, text structure, sentence structure and vocabulary.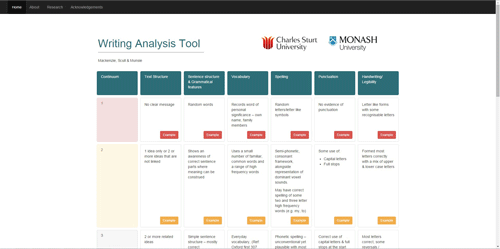 The Writing Analysis Tool allows teachers to compare their students' writing to the samples collected and then track their development over time.
"Mapping children's writing journeys allows a teacher to respond to their learning needs, celebrate milestones, teach effectively and build on what children know and can do," Dr Mackenzie said.
"This tool is designed to map shifts over time in the range of skills and competencies young writers use to communicate intended meanings and messages using standard writing conventions.
While the tool was originally designed for research purposes, it has been widely adopted by teachers as a practical way to not only assess students' writing and map their progress, but also to assess their own teaching practices.
"The tool guides the teacher's decisions in terms of feedback to the child, reporting to a parent and making decisions regarding what the child needs to be taught next," Dr Mackenzie said
"By examining a class set of samples using the tool, a teacher will be able to reflect on the strengths of their teaching program and identify dimensions that may need further attention."
Dr Mackenzie said the feedback received from teachers so far has been overwhelmingly positive and demonstrates potential for the tool to be rolled out further.
"The feedback we have received from teachers so far has been great, they love it," Dr Mackenzie said.
"Our research, and this feedback from teachers, demonstrates that teachers need efficient ways to monitor progress, identify learning needs and guide their teaching decisions. This is a great example of how research can directly impact on classroom practices and student learning. There is definitely scope to implement tools like this across all grades."
The Writing Analysis Tool was developed in partnership with researchers from Monash University. It is available to all teachers here.