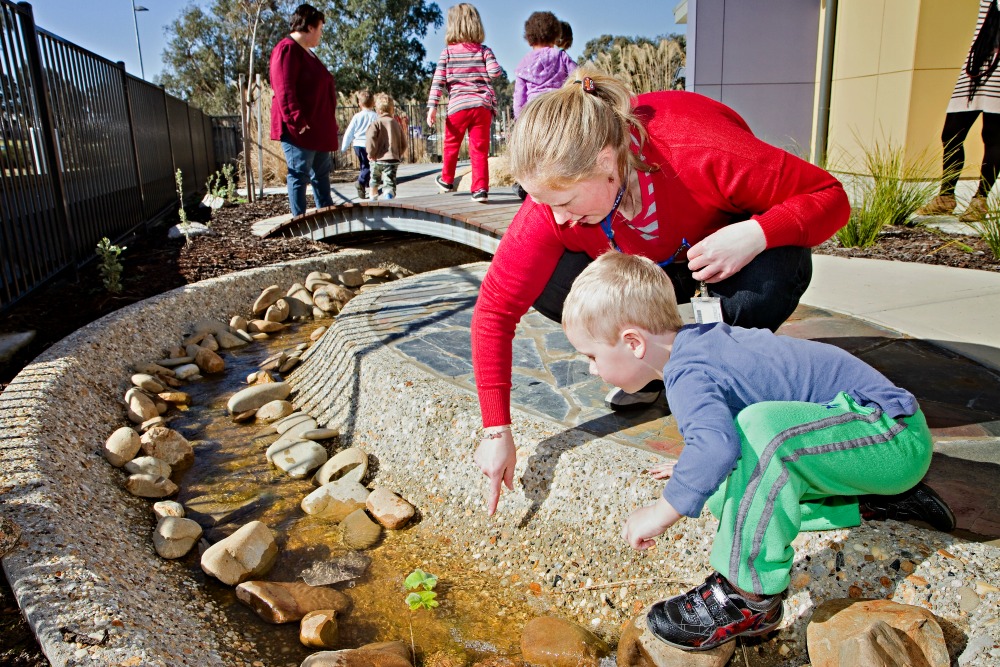 A new study led by Charles Sturt University (CSU) will define what it means to be an excellent early childhood educator.
The Australian Research Council (ARC) Linkage Project was announced on Friday 6 May 2016 by the Minister for Education and Training, Senator the Hon. Simon Birmingham MP. It will receive ARC funding of $355 000.
The workforce study, Exemplary early childhood educators at work: a multi-level investigation, will be led by CSU's Associate Professor Frances Press, Professor Linda Harrison and Dr Sandie Wong from the School of Teacher Education at Bathurst and CSU's Research Institute for Professional Practice, Learning and Education (RIPPLE).
The study is designed to help ease the shortage of early childhood educators and ensure those entering the profession are better prepared for the complexity of the work. It will document the work, skills and knowledge of exemplary educators to inform teacher preparation and professional development.
Professor Press said, "Highly skilled educators are critical to attaining the social, educational and economic objectives sought by government investment in early childhood education – both improved developmental and educational outcomes for the children who attend these services and increased parent participation in the labour market.
"Despite this investment there are widespread concerns in the early childhood education industry that preparation is inadequate for the rigours and reality of the work. In addition the long-standing problem of educator shortages has not been solved.
"By investigating the complexity of early childhood educators' work, we are aiming to inform better strategies for attracting, preparing, recognising, supporting and retaining a high quality workforce.
"Popular images of work with young children as easy and instinctual, or of teaching as only school based, mislead potential workforce entrants and erode the status of educators, leading to relatively high rates of attrition."
The partners on this CSU-led project are a unique national alliance of university researchers, employers of early childhood educators, unions and professional development agencies which will help to address skill shortages in the industry.
The other university investigators on this project are Dr Megan Gibson from Queensland University of Technology and Associate Professor Sharon Ryan from Rutgers University's Graduate School of Education based in New Jersey, USA.
Industry partners include: Community Care Cooperative NSW, Marrickville Council, the Creche and Kindergarten Association in Queensland, KU Children's Services, the Independent Education Union, United Voice, and Child Australia.
CSU Deputy Vice-Chancellor (Research, Development and Industry), Professor Mary Kelly congratulated Professor Press on securing the ARC funding.
"This research project has the potential to affect real change for the early childhood education industry, which is of great importance for the future economic development of Australia," she said.
"It demonstrates Charles Sturt University is strongly positioned to engage in research vital to not only our regions but Australia more broadly. The new knowledge produced by this project will ensure better preparedness and create sustainability in the early childhood education profession."