Driven by a personal philosophy that mathematics education must be meaningful, Charles Sturt University (CSU) academic Dr Amy MacDonald set out to inspire early childhood educators to engage with mathematics.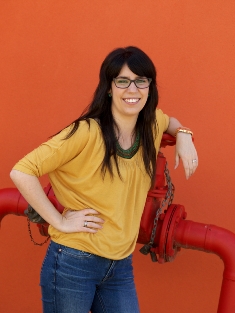 Dr MacDonald, a Lecturer in Early Childhood Studies at the School of Education at CSU in Albury-Wodonga, has developed two subjects for distance education Bachelor of Education (Birth to Five Years) students.
Dr Macdonald introduced videos, audio files and interactive games into the subjects. She enlisted the support of the host of ABC's Gardening Australia, Costa Georgiadis, for a video message as well as focussing on practical ideas and activities for students to take to back to their workplaces. Dr MacDonald also designed authentic and 'real-life' assessment tasks which the students were required to implement in their workplaces.
"Many of the students doing this degree are already early childhood educators with years of experience but for the first time they are studying maths at a tertiary level," she said.
"There is evidence to show that many early childhood educators are reluctant to engage in teaching maths to young children and it can often be explained by their own anxieties about their knowledge of the subject."
For her efforts, Dr MacDonald received the University's 2014 Faculty of Education Citation for Outstanding Contribution to Student Learning.
"In line with the national early childhood reform agenda, I worked to improve the educators' knowledge of maths to ensure Australian children have access to high-quality maths education in the years before they start school," she said.
Dr MacDonald is a member of the University's Research Institute for Professional Practice, Learning and Education (RIPPLE). She has been researching the field of early childhood maths education for the past six years. Read more about the CSU academic in CSU News here and here.