New guidelines have been developed to help universities support and retain students from refugee backgrounds as they move from Australian high schools into tertiary education.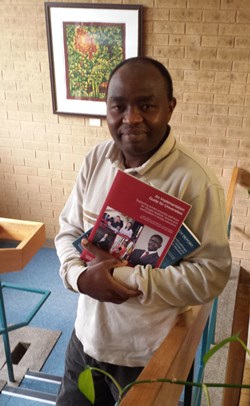 The guidelines are part of a resource kit based on research into the barriers and challenges faced by students from refugee backgrounds.
Interviews and focus groups were held with university and high school students with refugee backgrounds, as well as with teaching and support staff from western Sydney, Canberra and in regional NSW.
The report found there is a need to rethink how students with a refugee background can be better supported as they aspire to further their education in Australia.
One of the report's authors, Dr Kip Langat from the School of Education at Charles Sturt University (CSU) in Wagga Wagga said an increasing number of students with a refugee background were moving into the Australian higher education system and many had much to offer.
"An extraordinary amount of resilience and determination is needed by a refugee background student to successfully move from secondary school to university," he said.
"We interviewed a diverse range of students for the study: some had permanent residency, others had bridging visas, some had arrived with family members and others had arrived alone.
"They were also from various cultural and socio-economic backgrounds and, while some had achieved high levels of academic competence in their home countries, others had received little formal schooling.
"Therefore, it is important that these students are not seen by universities as a homogenous group with the same concerns, capabilities and hopes for their future."
Other recommendations include: that academic support is best delivered within faculties and face-to-face rather than in generic academic skills programs or online; the students require English language support from staff qualified in Teaching English to Speakers of Other Languages (TESOL); schools and universities need to develop specific policies for refugee background students to be able to effectively support and retain the growing student population; awareness-raising and ongoing professional development is needed for academic and general staff on the issues that refugee background students face and the strengths and resilience they bring to universities; students be given the option to identify as having a refugee background on enrolment; and universities should engage with the students on a 'person-to-person' basis rather than 'person to service'.
The case study report, Supporting school-university pathways for refugee students' access and participation in tertiary educationwas written by academics from CSU, the University of Western Sydney, and the University of Canberra.
It was funded by Australian Government Office for Learning and Teaching.
The Implementation Guide for Universities contains a series of fact sheets and activities for universities to use in staff training and professional development.
The report and guide are available through the University's Research Institute for Professional Practice, Learning and Education (RIPPLE) here.
Dr Langat recently presented the study's findings at the Higher Education Research and Development Society of Australasia (HERDSA) in Melbourne.