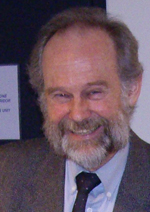 The communities of Charles Sturt University (CSU) and Bathurst are saddened by the death of Mr Bob Dengate, a leading teacher educator, education innovator, and local radio presenter.
Mr Dengate was a lecturer in teacher education for 23 years from 1986, when he first joined the
School of Teacher Education
at Mitchell College of Advanced Education in Bathurst, until his retirement from CSU in March 2009. He died peacefully at home in Bathurst on the weekend after a battle with cancer.
Colleagues at CSU have paid tribute to Mr Dengate, noting his collegiality, team work, friendliness, and diplomacy, and that he was always held in high regard by his students as a caring and effective teacher educator.
CSU's Professor Lyn Gorman, Deputy Vice-Chancellor (Administration), praised Mr Dengate's long-term contribution to the development of the
NSW HSC Online Project
, a collaborative venture of CSU and the NSW Department of Education and Training which began in 1996.
"From the beginning of the HSC Online Project to his retirement, Bob Dengate was one of the main contributors from Charles Sturt University," Professor Gorman said. "This project represented an early initiative in Australia to use the Internet to publish quality-assured resources for senior high school students and their teachers, and has continued to deliver millions of pages to HSC students each year. Bob played a key role as an early content developer for the mathematics section of the website, and drew on his professional network to encourage contributions so that the mathematics node became, and remains, one of the very rich areas of the site. He also played an important role in project governance, as a member of the project's Board of Management, bringing great knowledge and 'historical memory' of the project to that role. He had excellent working relationships with all involved, and members of the Board appreciated his consistent good humour and collegiality."
The Head of the
School of Teacher Education
, Associate Professor Ninetta Santoro, said Mr Dengate was held in high regard by his CSU colleagues and by many people beyond the University. "He made an extraordinary contribution to maths education and teacher education, having started his career as a maths teacher in the early 1970s. By the time Bob began as a lecturer here, he was well recognised as a dedicated expert classroom practitioner who was passionate about mathematics teaching. This passion and commitment sustained him as a teacher educator for a quarter of a century and inspired the many young teachers who have been fortunate to have benefited from his expertise and enthusiasm."
Professor Jo-Anne Reid, Associate Dean (Teacher Education) in the
Faculty of Education
said, "Bob always had a joke, a point of view, a comment and a 'scam'. As a colleague he was like 'glue', building links and networks across diverse individuals and groups. As a teacher he cared about all the students, and he was one of the smartest people I have ever known – a polymath, well read across so many areas, politically astute, and so innovative that he led the way with computing and Information and Communication Technology in teaching for many years, as evidenced by the ongoing success of HSC Online. I, and many others, will miss him immensely, and I feel privileged to have known and worked with Bob."
Dr Deb Clarke, lecturer in the
School of Human Movement Studies
in Bathurst took over the role of CSU Director of HSC Online when Mr Dengate retired. "The challenge of filling Bob's boots as CSU Director of HSC Online was the greatest challenge of my life," Dr Clarke said. "I thank Bob for the opportunity that he provided me, however I doubt I could ever fill the boots of a man whose respectful approach to life and people was gracious, humorous and dignified. The HSC Online team will very sadly miss their mentor, colleague, and friend, who leaves many legacies from which others will continue to learn and grow."
Mr Dengate is survived by his wife Kay, and children and grandchildren.