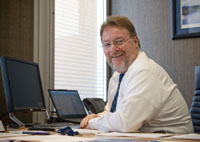 Charles Sturt University (CSU) is launching a new organisational change project today, known as Smart Learning, with the goal to design and implement a sector-leading curriculum, learning and teaching model.
CSU Deputy Vice-Chancellor (Academic), Professor Garry Marchant, says, "Smart Learning is about taking values the university upholds - collaboration, change agility, reliability - and ensuring they are implemented in learning and teaching.
"The Smart Learning Model takes all the organisational processes surrounding learning and teaching and embeds them within one another, with the help of sophisticated software tools. This enables collaboration between peers to design and deliver sector-leading learning experiences to ensure greater student engagement and learning opportunities.
"As recent thinking in higher education has highlighted*, the need for good teaching in Australian universities has never been greater. This includes the need for a stronger professionalised teaching focus in higher education, to improve student engagement and maintain high-quality teaching standards. With the implementation of Smart Learning, Charles Sturt University is leading the way in higher education learning and teaching innovation."
There are four components of the Smart Learning Model:
Learning Communities
Collaborating with peers to design and deliver quality learning experiences for greater student engagement.
Professional Capacity
Career progression and professional development opportunities with a focus on learning and teaching.
Learning & Teaching
Well–established theory and research put into practice as the foundation for course design, implementation and evaluation.
Technology
Transformational software that builds capacity, supports collaboration and feedback in course design, implementation and evaluation.
Smart Learning will be launched at CSU in Bathurst at 3pm Tuesday 17 September, and will initially be implemented in an 'early adoption' phase, with two courses from each of CSU's four Faculties (
Arts
,
Business
,
Education
,
Science
) adopting the new model for course design and implementation from 2014. The aim is for implementation across all CSU courses by 2018.
* See
Taking University Teaching Seriously
(The Grattan Institute, 2013)