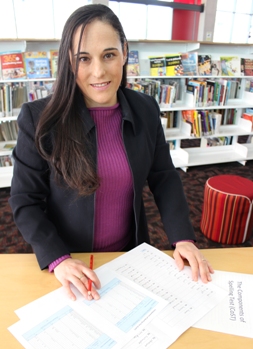 A Charles Sturt University (CSU) spelling expert has asked, will the fanfare of Australia's latest television show shine a light on children's literacy in the 21st century?
Mrs Tessa Daffern is a higher degree researcher at the Research Institute for Professional Practice, Learning and Education (RIPPLE). She considers celebrating a child's talent and success is important but is concerned the strategies encouraged by new television show The Great Australian Spelling Bee could be counterproductive to a child's literacy development.
"Friday spelling tests or spelling bees may be popular in many Australian schools but they encourage children to learn words in an isolated and decontextualised environment, often using rote learning techniques," Mrs Daffern said.
"Most children cannot meaningfully learn about words and spelling through rote learning. Instead, children should be encouraged to learn about the structure of words, their meanings, origins and how they can be manipulated within a sentence. Children should be equipped with a repertoire of problem solving strategies that they can draw on to figure out how to spell a word."
Mrs Daffern is particularly interested to see what strategies the contestants will use during The Great Australian Spelling Bee.
"It is likely that the contestants will be asked to spell words that they have never seen or heard before and I'm interested to see what strategies they will be able to use," Mrs Daffern said.
"Effective spellers typically have heightened orthographic sensitivity, meaning they can visually imagine words and are aware of plausible letter patterns. They are also able to deduce how a word will look based on its meaning, origin and how it is used in a sentence. I'll be interested to see if the contestants are able to ask questions about the word to gather this information or if they are expected to rely only on their memory and being able to 'sound it out'."
Mrs Daffern's PhD is titled An examination of spelling acquisition in the middle and upper primary school years and is based on the learning experiences of primary school children from year three to year six. Mrs Daffern has also developed a new spelling assessment tool, titled The Components of Spelling Test (CoST), which is informed by Triple Word Form Theory.
The Great Australian Spelling Bee premieres at 7.30pm on Monday 3 August on Ten.