A child's first encounter with spelling is often 'sounding out' words but Charles Sturt University (CSU) PhD student Mrs Tessa Daffern has discovered primary school children should be taught multiple spelling strategies from a young age.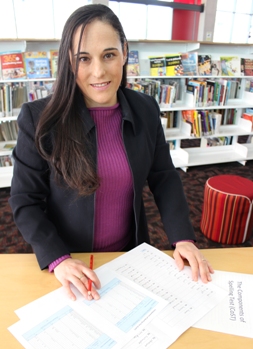 Mrs Daffern's research, through the CSU's School of Education in Albury Wodonga, is examining how children learn to spell so that educators can improve how this important skill is taught.
"For many primary school children learning, writing poses many challenges and can be very stressful, particularly for those who are poor at spelling. Much of their concentration goes into figuring out how to spell rather than on other thinking processes that make their writing interesting and of high quality," she said.
Mrs Daffern's research has involved more than 1400 students from 17 schools in the Australian Capital Territory.
Along with analysing National Assessment Program – Literacy and Numeracy (NAPLAN) results Mrs Daffern has developed a valid and reliable spelling assessment tool, titled The Components of Spelling Test (CoST).
"So far my research has shown that spelling is a significantly strong predictor of a student's performance in written composition, more so than grammar and punctuation," she said.
"I've also found that the development of spelling is much more complex than we ever thought. Spelling doesn't develop in distinct and sequential stages.
"In fact, the research has shown that overall development in phonological (sound to letter correspondence), orthographic (conventional letter sequences) and morphological processing (meaning and origin of word parts) occurs concurrently.
"There's an assumption that teachers should begin with a phonics approach to spelling but research shows that even from an early age children need to be taught other aspects of spelling.
"Importantly there's also scope for learning to spell beyond the primary school years."
The next phase of the research is looking at samples of writing and interviews with students and teachers to gain insight into the strategies that children use to spell.
"I hope my research can help teachers and curriculum developers to better understand what skills and strategies need to be taught so that all children can become proficient spellers."
Mrs Daffern's passion for the subject was evident when she won the recent CSU Three Minute Thesis (3MT) competition, in which PhD students had to explain their research to an academic judging panel and audience. See her presentation here.
"Taking part in the competition has helped me to crystallise my thoughts and better explain my research", she said. "It's also given me the opportunity to disseminate my work more widely and engage more people in talking about this important educational issue."
Mrs Daffern will now represent CSU at the Three Minute Thesis, (3MT) Trans-Tasman Finals at the University of Western Australia on Monday 3 November.