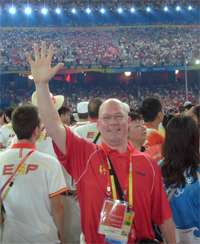 The success of Indonesian competitors at the recent 2011 South-East Asian Games – known as the SEA Games - has led to negotiations between Charles Sturt University (CSU) and Universitas Negeri Jakarta (UNJ) to strengthen links with sport and academic counterparts in Indonesia.
Dr Stephen Bird, senior lecturer in exercise rehabilitation at the CSU
School of Human Movement Studies
in Bathurst, has returned from the
26th SEA Games
(11-22 November) at Palembang on South Sumatra, and Jakarta on Sumatra, where he was an Invited Observer.
Dr Bird and CSU colleagues have been providing expert advice and services in elite athlete preparation and coach education for a number of years through the Indonesia Elite Athlete Program: Program Atlet Andalan, now known as the Golden Indonesia Program (PRIMA).
"We started in 2007 with the goal for Indonesia to be the number one ranked nation at the 2011 SEA Games," Dr Bird said. "In 2005, Indonesia was ranked number five; in 2007 number four; in 2009 number three.
"I attended the 2008 Beijing Olympic Games as
part of the Indonesian contingent
, and the Indonesian SEA Games Organising Committee invited me to attend the 2011 SEA Games where Indonesia achieved our goal of being ranked number one."
Dr Bird explained that Sumatra's Indonesian SEA Games Organising Committee and South Sumatra High Performance Program aim to develop a National Sports School.
"While I was in Jakarta after the SEA Games I gave an invited lecture for the Department of Exercise Sciences at the Faculty of Sport Sciences at the UNJ.
"Following this, Department and Faculty representatives at UNJ agreed to explore the development of scholarly cooperation, mutual understanding, and the creation of friendly relationships with the School of Human Movement Studies at Charles Sturt University.
"We are currently negotiating an agreement with the objective of academic research cooperation that may involve selected coaches and academics from UNJ completing our
Master of Exercise Science (Honours)
research degree."
Dr Bird acknowledged and thanked the Dean of the
Faculty of Education
, Professor Toni Downes, Associate Dean (Research), Professor Frank Marino, and Acting Head of the School of Human Movement Studies, Professor Robert Robergs, for their support of his and colleagues' work in Indonesia.