* Academic provided strategic and technical assistance to address critical issues in pre-service teacher education in Myanmar
* UNESCO project benefits from expertise in international physical education curriculum analysis and redevelopment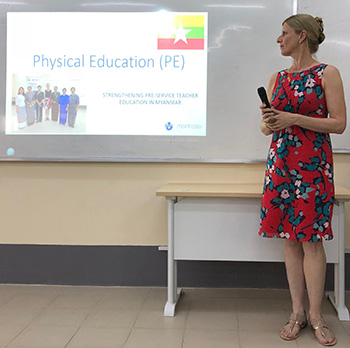 A Charles Sturt University (CSU) academic has recently returned from providing strategic and technical assistance to address critical issues in pre-service teacher education in Myanmar (formerly Burma).
Ms Rachael Jefferson-Buchanan (pictured left, and below with delegates), lecturer in human movement studies (health and physical education) and creative arts in the CSU School of Education in Albury-Wodonga, provided educational consultancy for a UNESCO-driven project called 'Strengthening Pre-Service Teacher Education in Myanmar' (STEM).
Ms Jefferson-Buchanan was invited by Cambridge University Press (CUP) to represent them and CSU and join several other subject-specific consultants for the project.
Before coming to work at CSU, Ms Jefferson-Buchanan worked as an educational consultant for Cambridge University for several years in similar national educational projects.
"In partnership with the Government of Australia, UNESCO has been working with the Myanmar Government Ministry of Education to improve the quality of pre-service teacher education in Myanmar for 25 Education Colleges," Ms Jefferson-Buchanan said.
"This will affect 2,000 teaching staff, 700 management and administration staff, and 6,000 graduating student teachers per year."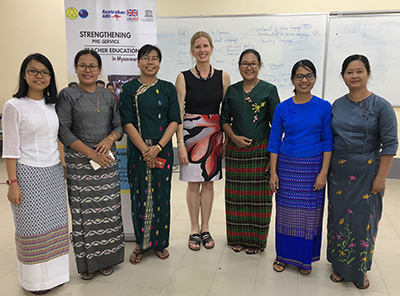 Ms Jefferson-Buchanan worked in creative, whole-bodied ways with the physical education teacher educators from the Myanmar Ministry of Education, designing and leading curriculum development workshops in primary physical education.
She also reviewed their draft Teacher Educator Guide and Student Teacher Textbook, as well as their existing physical education syllabus, recommending changes in consultation with the teacher educators.
"This type of work connects well with my teaching and research roles at Charles Sturt University, as I've written several Education Professional Teaching (EPT) subjects and convene these across a number of campuses in the Bachelor of Education (K-12) degree," Ms Jefferson-Buchanan said.
"In addition, I've written and taught a number of physical education and creative arts subjects at the University over the last six years for the K-12 and Bachelor of Education (Early Childhood and Primary) programs, and the Bachelor / Master of Teaching courses."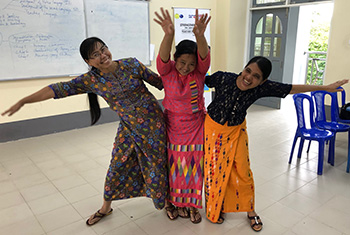 Ms Jefferson-Buchanan's PhD (submission March 2019) focusses on physical education and the power relations that have underpinned UK curriculum and related policy across a 114-year timeline from 1902 to 2016.
In particular, she has a passion for international physical education curriculum analysis and redevelopment, and has written curriculum at a national level for Kazakhstan and Egypt in her previous consultancy roles.
"Having worked in three countries as a teacher, lecturer and educational consultant, I am fascinated by the ways in which certain knowledge and practices, such as competition, are presented in physical education as natural and 'traditional'," she said.
"My own genealogical research seeks to trouble this consensus and offer alternative perspectives in physical education that are more creative, holistic and inclusive."
The STEM project in Myanmar is funded by Australian Aid, UK Aid, and the Ministry for Foreign Affairs of Finland.