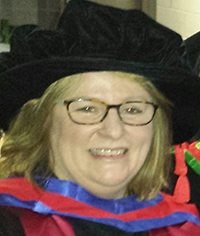 New Charles Sturt University (CSU) research promotes a re-imagining and new understandings of critical teaching practice with infants.
The thesis by Dr Sandra Cheeseman (pictured), who graduated in the CSU School of Teacher Education at the Faculty of Arts and Education graduation ceremony in Bathurst on Thursday 14 December, contributes to a growing body of work that challenges normative assumptions about infants and educators' practice.
"My research illuminates the exceptional thinking and theorising of infants as they engage in everyday encounters with curriculum," Dr Cheeseman said.
"It proposes that there may be alternative ways of observing, planning for and documenting infants' learning than are currently practiced."
Dr Cheeseman explained that the increased participation of infants in non-familial childcare has been accompanied by an intensification of political and research interest in their childcare experience. Despite a marked increase in research activity about, on and with infants, along with an escalation in government initiatives to shape their childcare experiences, the perspectives of infants − what they think, feel and know about their childcare experiences − remains significantly overlooked.
"My research aimed to better understand, as far as possible from the infants' perspective, how they experienced curriculum, in order to offer a reconceptualisation of infants as curriculum consumers," she said.
"My study investigated infants' encounters with curriculum and attempted to come closer to understanding what it is like for infants to experience curriculum in their childcare setting in order to reveal the potential hidden, silenced or taken-for-granted aspects about curriculum for infants.
"This is because there have been a growing number of international initiatives aimed at enhancing children's life outcomes, including the recent phenomenon of government-initiated curricula guides or learning frameworks for ever-younger children.
"These curricula guides frequently call on educators to view infants as 'agentic' and capable contributors to their own and others' learning. However, there is as yet little written about how infants' contribution to curriculum can be fostered."