* CSU speech and language researchers honoured with international award for best speech journal paper in 2018
* Editor's Award limited to the most impactful works that meet the highest quality standards in research design and presentation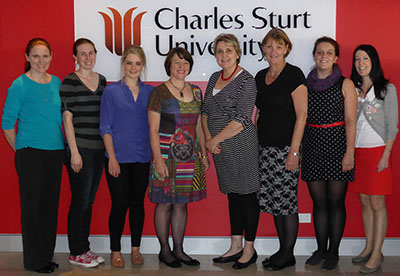 A published journal paper by Charles Sturt University (CSU) speech and language researchers has received the rare high honour of the Editor's Award.
The award for the best paper published in the journal of the American Speech-Language-Hearing Association (ASHA) in 2018 is limited to the most impactful works that meet the highest quality standards in research design and presentation.
The CSU research team led by Professor of Speech and Language Acquisition Sharynne McLeod was notified of the award by Mr Michael Cannon, Director of Serial Publications and Editorial Services of the Journal of Speech, Language, and Hearing Research.
The article is titled 'Cluster-randomized controlled trial evaluating the effectiveness of computer-assisted intervention delivered by educators for children with speech sound disorders'. The paper can be found here: https://jslhr.pubs.asha.org/article.aspx?articleid=2643351
The paper's authors were Professor Sharynne McLeod, Dr Elise Baker, Dr Jane McCormack, Dr Yvonne Wren, Professor Sue Roulstone, Dr Kathryn Crowe, Dr Sarah Masso, Dr Paul White, and Ms Charlotte Howland.
The paper summarises the team's Sound Start Study funded by an ARC Discovery grant and a grant from the NSW Department of Education. More info here: http://www.csu.edu.au/research/sound-start
Professor McLeod said, "This is an unexpected honour and we thank ASHA and the journal for it.
"For every piece of research we do we ask, 'will this make a difference to the lives of children and families across the world?'."
The research involved 45 early childhood centres and 1,205 4- and 5-year-old children. The importance of appropriate early intervention was highlighted for children who had difficulty making speech sounds and pronouncing words.
The award will be presented during the Researcher-Academic Town Meeting at the 2018 American Speech-Language-Hearing Association (ASHA) Convention in Boston, Massachusetts, USA, and will also be mentioned during the main awards ceremony at convention. ASHA has over 198,000 members and the convention will be attended by over 15,000 people.
CSU's Dr Kate Crowe will accept the award in Boston in November on behalf of the team.
All the award winners are listed here:
https://academy.pubs.asha.org/2018/09/2018-asha-journals-awards/
More details can be found at Professor McLeod's blogsite:
https://speakingmylanguages.blogspot.com/2018/09/winner-editors-award-for-journal-of.html