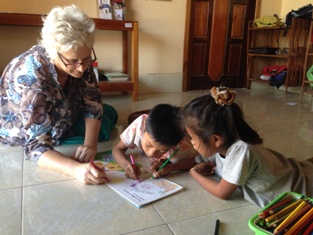 Observing the joy on the faces of Cambodian boys as they explored a brand new meccano set was one of the many highlights for a Charles Sturt University (CSU) education student during volunteer teaching placement in south east Asia.
Master of Teaching English to Speakers of Other Languages student Ms Carmel O'Beirne said, "As the boys opened, touched and matched the meccano parts, all sorts of trucks and structures came to life.
"The joy on their faces and their deep concentration was a sight to see and remember." Ms O'Beirne, from Myrrhee in northeast Victoria, was one of 10 students from the University's Faculty of Education who travelled to Cambodia for five weeks in early 2014.
In a new program supported by CSU Global and the Australian Government's Study Overseas Short-term Mobility Program, the CSU students went to Kampot in southern Cambodia to work with local teachers at the Chumkriel Language School, a NGO supported by Rotary Australia World Community Services.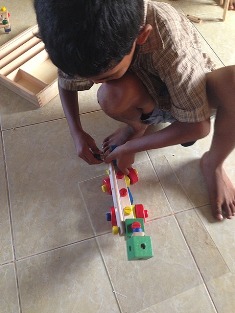 "In addition to volunteer teaching, the CSU students helped label and organise donated games and teaching resources which had previously being gathering dust on shelves and in cupboards," Ms O'Beirne said.
"I am so excited by my Cambodian experience that I'm keen to return. I felt engaged and purposeful the entire time. I learnt so much from the Cambodian people and at the same time felt I had a lot to offer to the experience as well."Accompanying the students was Senior Lecturer in the School of Teacher Education at CSU in Bathurst Dr Jae Major.
"This program aimed to give students an insight into teaching in a different cultural context at the same time as contributing to the school projects," Dr Major said. "The students developed intercultural skills and understandings essential for teachers in the 21st century."
The CSU group found the horrors of the Pol Pot era in the late 1970s remain close to the surface.
Ms O'Beirne said "One of the local teachers was forced to join the army at the age of eight. His father was killed because he had some education and his mother was forced to work in the fields day after day.
"Eventually he fled with a group to Thailand and returned after the war to be re-united with his mother.
"The teaching, living in a new culture, engaging in cultural activities and adjusting to the climate and conditions all contributed to a rich experience for me."
You can read Ms O'Beirne's travel blog, Teaching English in Cambodia - 2014 here.