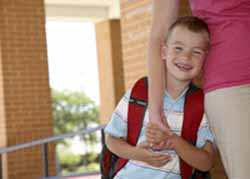 Nerves and excitement will be the order of the day at Australian schools next week as new kindergarten students start their journey through school.
Dr Noella Mackenzie, a literacy lecturer and researcher with the
School of Education
at Charles Sturt University (CSU), said, "Starting school is a big deal. It is clearly a key experience not only for the children starting school and their families but also for educators - both in schools and in prior-to-school settings.
"A successful start to school is linked to positive educational and social outcomes for the children."
After several years of research, Dr Mackenzie last year developed a 12-minute video,
Becoming A Writer
for parents on how young school children learn to write. Read more on CSU News
here.
Dr Mackenzie's general suggestions for parents and carers to ease children into school include:
It helps to have visited the school and participated in the transition program. It helps to have a friend in the same class, to know where the toilets are etc

Try not to get upset when you take your child to school as he or she will sense your concern and may respond in a negative way because he or she doesn't understand why you are upset.

Meet the teacher and talk about the purpose of school, and what the children will be asked to do in kindergarten, including social as well as scholastic tasks

Speak positively about school and how the child will make friends and learn how to do new things. Be excited for the child

Parents and carers should support the child's transition to school from a literacy perspective. Read to your child every day, including a range of texts - fiction and non fiction books, street and road signs, toy instructions, shopping lists and simple recipes

Show them how you write and tell them why. You can use emails, text messages, shopping lists, letters, Christmas cards, party invitations etc

Encourage them to explore with drawing and writing tools - have a box of textas, pencils, crayons and paper they can access. Encourage them to draw and 'write' - those early scribbles are a very important early exploration of the process of writing.

Play games that draw attention to the sounds in words and the letters that make them. I spy is perfect for the car

Take them to a library and let them join in the experiences offered by the library as well as letting them choose books to borrow

Give books as gifts and make the book shelf at home a special place but have some books the kids can have in their rooms

Talk to your child about things that interest him. Ask him to tell you about the things he does when he is not with you, e.g. when he is out with his grandparents. It is important that he can talk about the abstract – i.e. things that have happened and that he is no longer able to see. Having to explain something to someone who wasn't there is very important

Look up books or the internet to answer some of his questions. This is quite important.
Dr Mackenzie is based at the School of Education at CSU in Albury-Wodonga. She is also a member of the University's Research Institute for Professional Practice, Learning and Education (RIPPLE).