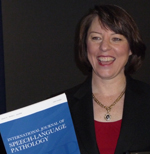 A professional organisation in the United States has bestowed a lifetime honour on a Charles Sturt University (CSU) education academic for her outstanding contribution to the understanding of communication sciences and disorders.
Dr Sharynne McLeod, Associate Professor in Speech and Language Acquisition at the CSU School of Teacher Education, has been elected Fellow of the American Speech-Language-Hearing Association (ASHA). The Fellowship is retained for life and is one of the highest honours its 130 000 members can bestow.
Professor McLeod said she was delighted and humbled to receive the ASHA Fellowship.
"I feel very privileged to receive this honour in 2008 as it was only last year that the first international affiliate of ASHA was elected a Fellow. Typically, the award of Fellow is bestowed on full ASHA members from the USA."
The ASHA citation states Professor McLeod was made a Fellow ' … for her distinguished performance and contributions to the profession in the areas of Research and Publications, Teaching, and Service to Speech-Language-Hearing Associations and Related International Professional Organizations'.
"My colleagues and I congratulate Professor McLeod on this great achievement and we are delighted that her work and contribution to the field have been recognised internationally," said Professor Toni Downes, Dean of the University's Faculty of Education.
"She exemplifies the calibre of academic staff at CSU that make it the national University of inland Australia."
The Association states the Fellowship is only award to those who '… have made outstanding contributions to the discipline of communication sciences and disorders … contributions that are significant and would be so regarded within and beyond one's community or state'.
Professor McLeod is editor of the International Journal of Speech-Language Pathology that was launched in Auckland, New Zealand, last week.
Additionally, she initiated and edited The International Guide to Speech Acquisition, the first-ever book to provide a comprehensive guide for speech-language pathologists and teachers working with children from a wide variety of language backgrounds. The book was launched at the ASLHA convention in Boston, Massachusetts, USA, in November 2007.
Professor McLeod is a key researcher in
Research Insitute for Professional Practice, Learning and Education
.