Undeterred by the recent chill of winter, a Charles Sturt University (CSU) student has displayed a dedication for her chosen career out in the environment.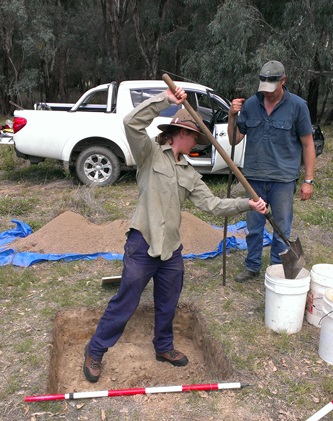 Nominated by her supervisor at Parklands Albury-Wodonga, 23 year-old Ms Sarah Thompson has won the Environment Award at the Wodonga Council's 2015 RED Carpet Youth Award in July.
Ms Thompson has volunteered one day a week for the not-for-profit community organisation on the New South Wales-Victorian border since early 2014.
Her volunteering came at the same time as she completed a Bachelor of Applied Science (Parks, Recreation and Heritage) through the University's School of Environmental Sciences in Albury-Wodonga.
Originally from Swan Hill, Ms Thompson said, "The award was a surprise but it was good to be recognised for volunteering in the local community.
"The conservation work I have been involved with has included installing squirrel glider nest boxes throughout Thurgoona, spraying out and collecting seed heads of noxious weeds, weeding, installing fences, installing motion cameras to catch evidence of native eastern quolls around Baranduda, planting native trees and grasses, and assisting with surveys for Indigenous artefacts."
Parklands Albury-Wodonga is not the only local organisation to benefit from Ms Thompson. She has also been a volunteer with the State Emergency Service in Albury for the past two years.
The CSU student hopes to secure employment as a ranger or field officer after she graduates in December.
Parklands Albury-Wodonga supervisor Ms Anthea Packer said, "Sarah has made a significant contribution through her specialist skills but also through her adaptive nature.
"She is not fazed by the large scale environmental challenges that Parklands
has been chipping away at for many years.

"Sarah is very inclusive in nature, having worked alongside a wide variety of staff and volunteers of differing ages, abilities and attitudes."
There is also high praise from her lecturer in the School of Environmental Sciences Dr Prue Laidlaw, who said Ms Thompson has demonstrated a passion for learning, strong concern and interest in the environment, and a desire to make a difference.
"Community engagement is an important part of our courses," Dr Laidlaw said.
"We encourage our students to take part in different projects related to the environment, ecotourism, outdoor recreation, and park management.
"Sarah is an excellent example of the ability of community engagement programs to foster within students the development of new skills and knowledge, cultivate and advance civic pride, and encourage students to extend themselves and grow."
Now in its seventh year, the awards are hosted by Wodonga Council to recognise young people who are making a difference or excelling in their field.