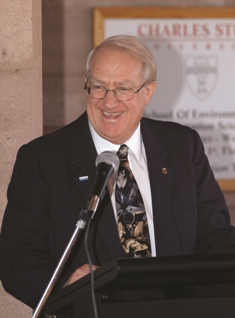 Charles Sturt University (CSU) congratulates pioneering wetlands scientist and administrator Professor David Mitchell, AM, who received national recognition last weekend in the Queen's Birthday Honours List for 2014.
CSU Vice-Chancellor, Professor Andrew Vann, congratulated Professor Mitchell on receiving his Member of the Order of Australia for his significant service to conservation and the environment, particularly wetland and water research.
In 1986 Professor Mitchell was appointed the inaugural director of the Murray Darling Freshwater Research Centre (MDFRC), then based in Griffith. He subsequently led research efforts by the CSIRO into the Basin's degrading rivers and surrounding wetlands, and held this position until 1993.
Since retiring as a research scientist and administrator, Professor Mitchell has been an adjunct research professor with the University's School of Environmental Sciences and Institute for Land, Water and Society.
Apart from maintaining various research projects and interests in viable wetlands on private landholdings, Professor Mitchell also advised the University on the establishment of artificial wetlands on its Thurgoona site to treat the waste water that flowed from its buildings. This resulted in many regional, national and international awards to the University for the innovative artificial wetlands and sustainable water management systems that were built on the campus.
"Professor Mitchell has been a shining light for the practical applied research for which Charles Sturt University is becoming well known," Professor Vann said.Born in Zimbabwe and educated in South Africa, Professor Mitchell, 79, initially trained as a science teacher before turning his mind to botany, discovering the voracious aquatic weed
Salvia molesta
in southern Africa. He came to Australia on the trail of the weed which was invading Australian inland waterways in the 1970s, before turning his mind to developing artificial wetlands, and fostering many young researchers that were part of the MDFRC.