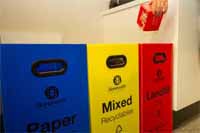 Following an environmental assessment of all Charles Sturt University (CSU) campuses against the University's sustainability goals, the Head of Campus in Bathurst, Mr Col Sharp, will officially launch the Environmental Scorecard for the campus this morning, Thursday 12 September.
Mr Chris O'Connor, the acting energy manager with
CSU Green
, said this environmental assessment is relative to baseline data taken in 2006 when the University embarked on this initiative. He noted that the Bathurst campus, like all CSU campuses, has continued to grow during this period.
"The biggest success story for the campus in Bathurst is associated with waste," Mr O'Connor said.
"With the introduction of the new kerb-side collection system in early 2012, which replaced the system carried out by the Division of Facilities Management (DFM) staff, there was a big jump in the recycling rate to about 26 per cent, up from the 2011 the campus recycling rate of about 1 per cent.
"This was a significant improvement on previous years, and aligns well with recycling rates on other campuses. This also freed DFM staff, who were previously diverted with waste collection, for other duties. It will be interesting to see the impact of such projects as 'office waste' on the 2013 recycling rate.
"Electricity consumption has plateaued in 2012, with overall electricity consumption remaining fairly consistent since 2009. We expect electricity consumption (sourced from the grid) to reduce significantly from mid-2014 once the co-generation power system is installed and operational.
"Natural gas consumption increased by 4 per cent, however, this was due to the addition of some 'off-site' gas accounts (Vice-Chancellor's residence, Hargraves House, Mitchell and Truskett residences) that had not been included in previous years' calculations. Overall, it could be said the gas consumption on the main campus has plateaued as well.
"There was an 18 per cent increase in water consumption in 2012 compared to the previous year 2011, but that increase is mostly attributed to the significantly hot early summer experienced in late 2012, and the associated watering of the grounds to get them through this period."
In addition, CSU Green has other projects on the drawing board to assist the campus to achieve its target of a 70 per cent diversion of waste from landfill by 2014.
The CSU Environmental Scorecard will be launched at 10.30am Thursday 12 September at the Council Room at The Grange, at CSU in Bathurst.