Charles Sturt University (CSU) research which has increased farm profits and improved the environment is part of a project named as a finalist in the Australian Museum Eureka Prizes.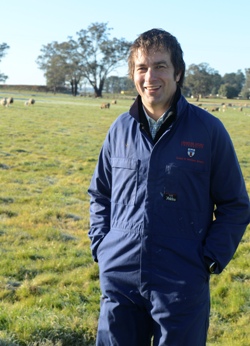 CSU was one of six partners in the national EverGraze program which brought together leading scientists under the Future Farm Industries Cooperative Research Centre to design, test and implement farming systems based on perennial plants in high rainfall areas in southern Australia.
The project is a finalist in the 2014 Department of Agriculture Landcare Eureka Prize for Sustainable Agriculture, with the winner to be announced on Wednesday 10 September.
The Australian Museum Eureka Prizes are affectionately known as the 'Oscars of Australian science' and reward excellence in the fields of research and innovation, leadership, science communication and journalism, and school science.
Future Farm Industries CRC Program 1 Leader and CSU Associate Professor of Livestock Production Michael Friend said research was carried out on farms in NSW, Victoria and WA.
"EverGraze showed it was possible to significantly increase the profitability of livestock enterprises while reducing ground water recharge and soil loss by water and wind, by better matching pastures to the environment and livestock systems," he said.
Professor Friend, based in the School of Animal and Veterinary Sciences at CSU in Wagga Wagga, said a key plank of the project was making the information relevant and accessible to farmers.
"EverGraze brought together experts in agronomy, soil science, hydrology, animal production and economic and environmental monitoring. It incorporated advice from Regional Advisory Groups and the on-farm experience from 60 demonstration sites," he said.
"From this we have been able to develop regionally relevant information for farmers which quantifies the productivity, economic, environment, risk and lifestyle impacts of implementing changes on farm.
"Charles Sturt University was pleased to play a lead role in this research and it's pleasing to note that as a result of this project more than 4 400 farmers covering over 900 000 hectares have made changes on-farm, with demonstrated increases to productivity and profitability."
Associate Professor Friend is also a member of the Graham Centre for Agricultural Innovation.
Other CSU staff involved in the project included Dr Susan Robertson, Dr Belinda King, Mr John Broster, Dr Alison Southwell, Dr Jason Condon, Dr Scott Glyde and Associate Professor Phil Eberbach.
The six partners in the national EverGraze program included CSU, NSW Department of Primary Industries, Victorian Department of Environment and Primary Industries and Western Australia Department of Agriculture and Food under the Future Farm Industries Co-operative Research Centre (CRC), with additional funding from Meat and Livestock Australia and Australian Wool Innovation Limited.
Watch a short video about the research here.