A Charles Sturt University (CSU) researcher has welcomed todays addition of koalas in Queensland, NSW, and the ACT to the national threatened species list.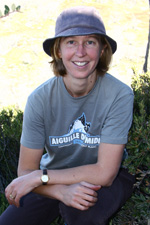 Lecturer in wildlife ecology with CSU's
School of Environmental Sciences
, Dr Alison Matthews has been researching koalas for almost 20 years and said the move will provide more protection for this iconic Australian animal.
"The loss of habitat and fragmentation of habitat is one of the biggest threat to koalas," Dr Matthews said. "Although the koala has been classified as a vulnerable species in NSW for some time, protection under national threatened species legislation will provide more checks and balances when it comes to development."
The Federal Government estimates koala numbers have dropped by 40 per cent in Queensland and by a third in NSW over the past 20 years.
Dr Matthews' research in NSW has involved tracking koalas, mapping habitats, looking at tree preference and examining threats such as fire and dogs.
She has worked with researchers in the NSW Office of Environment and Heritage to develop one of the first koala management plans under state environmental planning policy in Coffs Harbour Shire on the mid-north coast of NSW.
"This took away the piecemeal approach to development and over a whole local government area we were able to identify primary koala habitat," she said. "Hopefully this national listing of koalas under the national threatened species legislation will encourage other areas to go down the same path."
The Federal Government has also allocated $300,000 of new funding under the National Environmental Research Program Emerging Priorities to learn more about koala habitat.
Dr Matthews argues more research into koala biology and ecology is also needed.
"Over the past 15 years there has been a lot of research looking at koala habitat and tree preference and we now know they aren't sleepy animals that stay in the one place, they actually move considerable distances.
"But more research into the dynamics of koala populations is needed. We could map and save all the habitat but there may be some other threats to koalas within that habitat," she said. "We may find we have all this lovely bush conserved and there's no koalas left. I believe more needs to be done to monitor the populations of koalas themselves and not just the habitat."