Charles Sturt University (CSU) is further embracing a sustainable future with the arrival of its first electric cart vehicles at Bathurst and Wagga Wagga.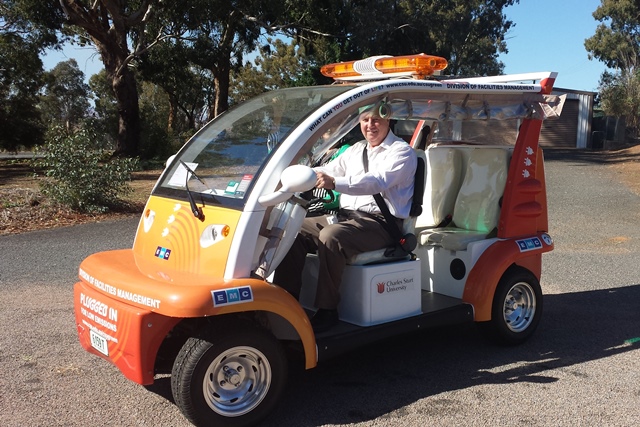 Two EMC Electric Vehicles will be used on campus at CSU in Bathurst and Wagga Wagga instead of traditional vehicles, including during emergencies. They join the growing number of bicycles available for staff to move around the regional campuses.
The new EMC Electric Vehicles from the Golf Cart Group run on electricity and are fitted with on-board chargers. The batteries are charged when plugged into a standard power point.
"Our aim is to provide transport options that contribute to the reduction of Charles Sturt University's carbon and overall environmental footprint," CSU Division of Facilities Management Director of Operations Mr Wayne Millar said.
"The electric vehicles cut noise pollution, carbon emissions and cost a lot less in fuel consumption and maintenance.
"Staff bicycles are not practical for every transport situation so it's hoped is that the addition of these new electric vehicles at Bathurst and Wagga Wagga will mean that there are very few on campus trips using vehicles with conventional fuels," Mr Millar said.
The carts will also be used by CSU staff to manage on campus emergencies.
Mr Millar said, "These vehicles have a high visibility flashing emergency light bar across the roof, a public address system, emergency alert siren and the ability to access parts of the campus that a conventional vehicle cannot reach."
CSU Green Manager Ed Maher said, "The electric vehicles are a significant milestone in our approach to sustainability. We are leading by example. "
Loading...
A comparison of the costs of the electric vehicles and on campus fleet cars reveals a vast difference in operational costs and a reduction in carbon emissions.
The CSU Fleet Toyota Prado has a running cost of $1 770 each year, including registration and fuel consumption, and a CSU Fleet Toyota Camry costs $1 375. These figures would be higher once servicing is included.
The vehicles purchased by CSU from the Golf Cart Group each cost $22 to register, $180 a year to run and $158 in electricity, totalling $350 per year. The electric vehicles also have very low servicing costs.
Mr Millar said, "That is an annual saving of $1 420 as well as a 47 per cent reduction in carbon emissions compared to the Prado."
CSU will monitor the performance of the vehicles ahead of any expansion across other CSU campuses.