Charles Sturt University (CSU) researchers have found the release of 'environmental water' from dams at selected times in 2011 had significant benefits for wetland plants and animals in the mid- Murrumbidgee wetlands.
"We found that key indicators of environmental health all improved in wetlands that received environmental water in June 2011 compared to control wetlands which only received water during the natural flood event in December 2010. This provides clear evidence that environmental flows are critical to the health of wetlands and rivers in the Murray-Darling Basin," said research team leader Dr Skye Wassens, a wetland ecologist with CSU's
Institute for Land Water and Society
.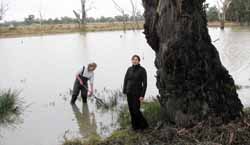 "Our group recorded significantly higher diversity of native fish, more frogs, successful waterbird breeding, improved water quality and faster recovery of aquatic vegetation in the wetlands that received the environmental flows compared to wetlands which did not receive environmental water in 2011.
"The environmental release also improved the health of macroinvertebrate and biofilm communities in the Murrumbidgee River itself, demonstrating that, with careful planning, an environmental release can have benefits right along the river as well as in the target wetlands."
Around 161 gigalitres of 'environmental water' was released from Burrunjuck and Blowering dams in June 2011, which was sourced mainly from Commonwealth environmental water, as well as the NSW Environmental Water Allowance, the Living Murray and private donations.
The wetlands, located halfway along the Murrumbidgee River between Wagga Wagga and Hay, were then monitored between June 2011 and February 2012. The multi-disciplinary team of researchers from CSU and NSW Office of Environment and Heritage measured the response of plants, animals and water quality before and after the environmental water had filled wetlands.
"The environmental release also seemed to favour native fish over exotic species such as carp, with native fish outnumbering exotics. There was also successful breeding by freshwater turtles, with hatchling Macquarie River turtles recorded in wetlands that received environmental water," Dr Wassens said.
"Most importantly, the major releases in autumn and winter helped regenerate the wetlands after a decade of drought, while the smaller spring and summer inflows were crucial in maintaining the environmental gains made earlier in the season."
This monitoring was commissioned and funded by Commonwealth Environmental Water with additional in-kind contributions from the NSW Office of Environment and Heritage.