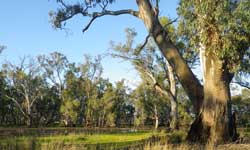 New research by Charles Sturt University (CSU) ecologists will feature at the Biodiversity Across the Borders Conference in Ballarat on Friday 12 June.
The University's Institute for Land, Water and Society is one of the sponsors of the annual conference which presents the latest research in natural resource management.
The conference theme, 'Biodiversity in rural landscapes,' is closely aligned with research conducted by the ILWS Biodiversity Conservation strategic research group.
Group leader Dr Peter Spooner said, "More than 500 delegates including, local government, natural resource managers, researchers and members of the community are expected to attend the conference.
"It's a wonderful opportunity for our researchers to showcase their work and to build and strengthen networks with industry and the community in Victoria, SA and southern NSW."
Keynote speaker is CSU adjunct Associate Professor Ian Lunt, an avid science communicator, who will discuss how researchers can get their messages out to increase scientific and ecological literacy in our communities.
Other ILWS speakers include:
Professor in Ecology, David Watson: Wildlife restoration: applying lessons learned from revegetation to safeguard native animal populations
Senior Lecturer in Ecology, Dr Peter Spooner: Biodiversity interactions in mallee almond crops
Post-doctoral Research Fellow at ILWS, Dr Manu Saunders: Costs vs benefits of birds and insects in agricultural landscapes. Case Study: Victorian apple orchards
The Conference will be held from 8.45am to 4.35pm at Centre for Environmental Management, Federation University Australia, Mount Helen in Ballarat.