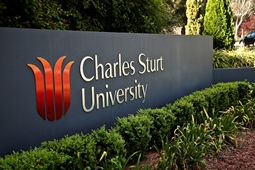 Charles Sturt University (CSU) in Albury-Wodonga will host the Earth Building Association of Australia (EBAA) international conference from Thursday 2 to Monday 6 November.
This annual event brings together local and international earth building experts and will be an opportunity for the University to highlight its leadership and teaching of earth building and sustainability.
Associate Professor Dirk Spennemann in the CSU School of Environmental Science said CSU was a 'trail-blazer' when it came to sustainability.
"The rammed earth buildings completed between 1995 and 2000 at Charles Sturt University in Albury-Wodonga represented an important green-fields environmental design when it wasn't widely practiced," Professor Spennemann said.
"The University's leadership in sustainability made the conference an obvious fit to bring together experts and to show that the University was committed to sustainability teaching that is backed up by action.
"As an educational institution, it is important that Charles Sturt University not only focuses on its teaching but also works with industry to action the theory we teach.
"By hosting the conference, we have the opportunity to talk to environmental building industry stakeholders and showcase the sustainable building techniques and materials used at CSU in Albury-Wodonga."
Professor Spennemann will also be discussing his research into the decay processes that buildings go through over time, to better understand how to build and manage them.
"Research is showing that modern rammed earth buildings withstand decay very well. When looking at historical and modern buildings, there are some decay processes that have similarities, but there are critical differences.
"The past can provide lessons that can be heeded to better build and manage significant buildings," Professor Spennemann said.
Over three days, participants will receive hands-on learning across construction, mud bricks, rendering finishing. They will also hear from leading architects, academics, engineers and industry contractors who will talk about the latest developments in design, and the optimisation of materials that match climate.
On the fourth and last day of the conference, CSU in Albury-Wodonga will invite participants to tour the university's rammed earth buildings. Collectively, the buildings form the largest complex of rammed earth buildings in Australia and were designed by architect Marci Webster-Mannison and CSU.