The revival of rail freight in regional Australia will be explored during a public lecture at Charles Sturt University (CSU) on Wednesday 17 September.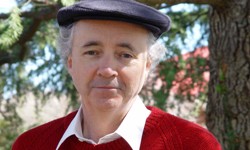 Adjunct Associate Professor Ian Gray, a researcher with CSU's Institute for Land, Water and Society (ILWS), will lead the discussion about how government and industry can work together to ensure that rail infrastructure is used to its maximum potential.
"Much more freight could go by rail in southeast Australia," Professor Gray said.
"When you compare our rail freight system to other parts of the world, you can see how we could be missing opportunities."
"Canada and the United States have significant volumes generated locally, supporting local industry and maintaining a thriving regional rail freight industry.
"Rail freight offers economic as well as social and environmental advantages."
"Rail can lower transport costs, is safer and produces less pollution."
"However, increasing the share of freight on rail will require the participation of all levels of government and industry, including the road transport industry which also stands to benefit."
"Growing rail freight is problematic, possibly more through lack of enthusiasm in the higher levels of government than in the transport sector."
"I will argue that regional governance has the potential to align local development goals with national interests. The lecture will be an opportunity to discuss innovative ways for community and industry to be more involved in rail freight."
The free public lecture, Getting on the Rails will be held from 3pm to 4.30pm on Wednesday 17 September in room 202, building 751 at CSU in Thurgoona.
Speakers include:
- Adjunct Associate Professor with CSU's ILWS, Ian Gray who will address the topic, "Regionalisation and the prospects for rail freight"
- Executive Officer of the Victorian Alliance of Councils for Rail Freight, Mr Reid Mather, whose topic is "Local government advancing integrated rail freight in regional Victoria"
- Former Principal Land Use Planner at Queensland Rail, Mr Nick Montague, whose topic is "Recent developments in Queensland's regional rail freight system and some suggestions regarding its governance".
The talks will be followed by an "Interchange"- a question and answer segment.