To the delight of researchers, the inaugural Slopes to Summit (S2S) Big Tree Competition has uncovered trees larger than any previously documented in the region along with some fascinating stories.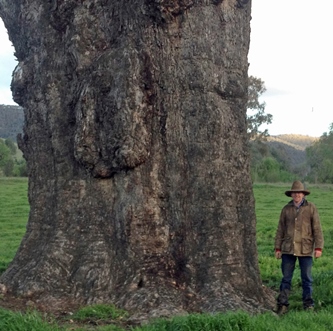 And while this year's competition has drawn to a close, the information gained will be put to good use by Charles Sturt University (CSU) researchers.
Sponsored by CSU's Institute for Land, Water and Society (ILWS), the NSW Government's Environmental Trust and the Great Eastern Ranges Initiative, the competition was held from February to April to raise awareness of the importance of conservation of large trees in rural landscapes. Winners will be named online on Wednesday 6 May.
ILWS researcher Dr Peter Spooner said, "Our knowledge about the size and general location of the large old trees across the landscape is poor.
"Some of the trees highlighted in this competition have dimensions previously never recorded, where several had a girth of greater than nine metres," he said.
"Previous research has looked at the size of trees and correlated that to age, which suggests that many of the entrants have recorded trees that are many hundreds of years old.
"Large trees are like an apartment block providing habitat for many other birds, animals and other plants. So knowledge about their size and whereabouts is important to the conservation of species in our endangered woodlands."
Dr Spooner said a positive outcome of the competition is the interest generated amongst farmers and the wider community.
"Entrants had to write why the tree was important to them and this information will be used in social science research to examine people's connections to nature," he said.
S2S facilitator and competition coordinator Mr Sam Niedra said, "We had 34 big trees entered equating to 200 metres of trunk circumference and a treasure chest of interesting stories."
The S2S Big Tree Competition was organised by the Slopes to Summit (S2S) partnership of the Great Eastern Ranges Initiative, Australia's largest conservation partnership.
The competition's photo and video entries can be found here.