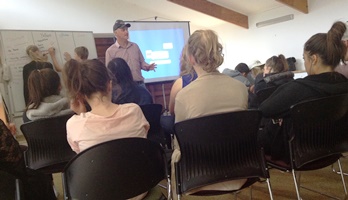 A project at Charles Sturt University's (CSU) Institute for Land, Water and Society (ILWS) has turned its attention to over 500 primary school students to show them the value of creating sustainable communities.
The Learning Communities project is an innovative community partnership model aimed at practically demonstrating the value of higher education to prospective students in Albury-Wodonga.
Learning Communities has already seen over 300 students in years 10 and 11 at local high schools visit three universities including CSU, as well as active community groups in Albury, the Gippsland region and Melbourne, to investigate a range of career opportunities.
Learning Communities project leader and CSU lecturer Dr John Rafferty said, "The students have seen first-hand how university courses and their careers can have lasting influences on the sustainability of the community, particularly in ensuring all citizens have access to caring professionals who can help them."
The Learning Communities project is currently completing its initial contacts with local primary schools from Albury-Wodonga and surrounding districts. The three-day primary program will culminate with the Flourish Festival on Saturday 14 November at CSU in Albury-Wodonga.
"Over 500 students in years 5 and 6 are exploring their future and the value of higher education.
"The students are busy preparing displays and activities on aspects of sustainable communities that reflect their future career options, which they will present to their families and the wider community during Flourish Festival," Dr Rafferty said.
"During this free fun day, we will also present plenty of entertainment, our partner organisations including the Sea Shepherd, the Australian Youth Climate Coalition and Animals Australia from Melbourne and Edgar's Mission from Lancefield will visit. We will also launch films that our high school students have made about their experiences. There will be lots of opportunities to celebrate how some of the region's best students are contributing to a sustainable community in Albury-Wodonga."
Visit the festival website here.