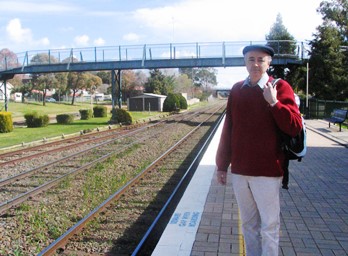 Increasing the number of unattended train stations in regional NSW to 11 will 'continue a long trend of decline' says Charles Sturt University (CSU) academic.
Associate Professor Ian Gray is a social scientist and an adjunct member of the University's Institute for Land, Water and Society. His research focuses on rail transport and its relationship to regional development and social issues.
Professor Gray was prompted to speak out about safety and customer service concerns following a proposal by NSW Trainlink to leave some regional railway stations unattended, including those at Parkes, Broken Hill, Lismore, Yass Junction, Griffith and Byron Bay.
"Train travel is important to many people," Professor Gray said. "Some people could be discouraged from travelling altogether if services like ticket sales at stations are lost.
"Plus station staff do more for travellers than selling tickets. Staff have important safety responsibilities and provide face-to-face interaction and useful advice.
"We should look to international examples to see how they manage their regional rail networks in line with the needs of local communities. Most prominent of the positive approaches to regional rail are the Community Rail Partnerships in the United Kingdom (UK)," he said. "Local agencies work with the rail operators on certain routes."
Professor Gray said, "This gives local people more 'ownership', making rail services more attractive and stations more useable by the community. Local tourism also benefits."
"Over the last 30 years, NSW governments have gone from one review to another, with some unpopular changes opposed by the public and later withdrawn.
"The most important trains in the fleet, the XPTs, have a limited life and there seems to be no plan to replace them.
"This trend had appeared to be changing during last year's State election campaign when an announcement was made to look at buying new, faster trains. One might ask what has happened to that idea.
"All this has occurred in the absence of policy for regional rail services in NSW.
"Other than last year's election promise, there has been nothing positive to come from government since 2000, and then it was only about very limited services.
"Some train services have slowed and some timetables have been more suited to the trains than the travellers," Professor Gray concluded.