Charles Sturt University (CSU) ecologist Dr Manu Saunders is finding out how the small things, wild pollinators, can affect the big picture of agricultural ecosystems.
A post-doctoral research fellow at the Institute for Land Water and Society (ILWS) at CSU in Albury-Wodonga, Dr Saunders' research is focused on ecosystem services provided by insects and birds in agricultural landscapes, such as pollination and biological control.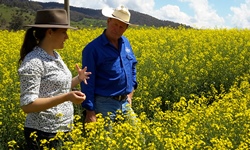 As lead author of a paper published recently by the Royal Swedish Academy of Sciences' journal AMBIO, Dr Saunders argues that we should look at the cost-benefit trade-offs of wild animal, bird and insect activities in our agricultural systems.
"Ecological interactions between crops and wild animals frequently results in increases or declines in crop yield," she said. "Yet, positive and negative interactions are mostly treated independently.
Dr Saunders said identifying net returns through trade-offs between these interactions can better inform management decisions to simultaneously benefit biodiversity conservation and food production.
"No farm is an island. Productivity of crops on individual farms is influenced by processes occurring at landscape and regional scales.
"It is imperative that future research and management strategies for agro-ecosystems recognise that cycles of interactions between crops and wild animals, birds and insects are inherent to productive farming and should be sustained, rather than isolated from the system."
Dr Saunders is encouraging the public to be more aware of the thousands of native insects that pollinate crops and gardens and is one of the organisers of the Australian Wild Pollinator Count.
Between the Sunday 15 November and Sunday 22 of November people are invited to watch a flowering plant for 10 minutes and record the pollinators they see. Join the conversation on Twitter #OzPollinators
Partnering with Slopes2Summit Bioblitz, the Count also includes a photography competition, a day of pollinator activities at the Albury Botanic Gardens and an event for school children.
Dr Saunders is also one of two ILWS researchers featured in the newly published anthology, Best Australian Science Writing 2015.
Dr Saunders' article, 'Lost in a Floral Desert',originally published in Wildlife Australia was based on her PhD study of insect communities in almond orchards in Australia.
"The research showed that native vegetation surrounding the orchards and a ground cover of flowering herbs within the crops was crucial for supporting pollinating insects," said Dr Saunders.
ILWS Adjunct Associate Professor, Dr Ian Lunt's blog post, Field Guide to the Future is also included in the anthology. In the post he reminisces about field guides for plants and animals, tracing their development from a book in the glove box to mobile apps.