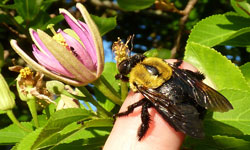 Valuing the role nature plays in the lives of humans is a balancing act between economic benefits and moral motivations, according to Charles Sturt University (CSU) researchers.
Following Earth Day on Wednesday 22 April which asked people to join the global environmental movement, Professor of Ecology and Interdisciplinary Science Gary Luck and Ecologist Dr Manu Saunders, both from CSU's Institute for Land, Water and Society, believe we need deeper reflection on our relations with the natural world and our responsibility to protect it.
"Debates rage in conservation biology about how to strengthen society's regard for nature," Professor Luck said.
"There is a consensus that we need much greater recognition and appreciation of nature and the role it plays in our lives. However, questions remain around how we understand, identify and measure nature's value."
At present, there are two frameworks used to value nature; services and morals. Morals see humans driven to value nature because they feel it is right thing to do. The former involves indentifying 'services' beneficial to humans that derive from ecological processes, for example pollination of crops by bees and climate regulation by carbon-storing forests. Sometimes a monetary value is attached to these services.
"Although assigning a monetary value to the service helps to make the value tangible, some conservationists worry that emphasising the utility of nature undermines the moral arguments for protecting nature," Professor Luck said.
"Asking 'what can nature do for us?' could threaten the conservation of certain ecosystems if the answer is 'not much' or if destructive uses seem more beneficial for humans. For example, what if the dollar value of protecting forests to store carbon is less than can be obtained from harvesting the trees for timber?
"A narrow focus on monetary values risks commodifying nature to the point where conservation is an option to be discarded."
Professor Luck and Dr Saunders believe that the answer lies in taking a more nuanced approach to valuing nature to recognise also the relations that humans have with the natural world and the contribution of nature to human perceptions of 'a good life'.
"This focus would allow us to acknowledge that we have a responsibility to conserve nature for nature's sake but also think deeper and identify the specific reasons why one values nature," Professor Luck said.
"Valuing nature can be complex but a balance can be found through appreciation for our environment."